For Kyle Taylor, Ashley Levien was never just tall, blonde, and stunning. She was also athletic and adventurous. For Ashley, Kyle's eyes, as well as his ability to make her laugh, were instantly attractive. And he was the perfect height to match her 6-foot frame.
Their love story began on an online dating site in 2014. With trips back home to Santa Cruz and searching for beautiful and natural views, the couple built their relationship. They met each other's parents, and Kyle remembers getting to know Ashley's while waiting for her to finish her 70.3 mile Iron Man, a triathlon race in Windsor, California. Ashley was nervous before the start of the race, but ultimately happy they were together. The experience turned out to be the perfect way for him to get to know her parents, hanging out with them and their three corgis at the finish line.
After a two-week road trip from Seattle to San Francisco, the couple woke up in Mendocino, California to a beautiful sunrise and a beautiful moment. Kyle brought the ring on their trip, just waiting for the mood to strike and the right moment to propose.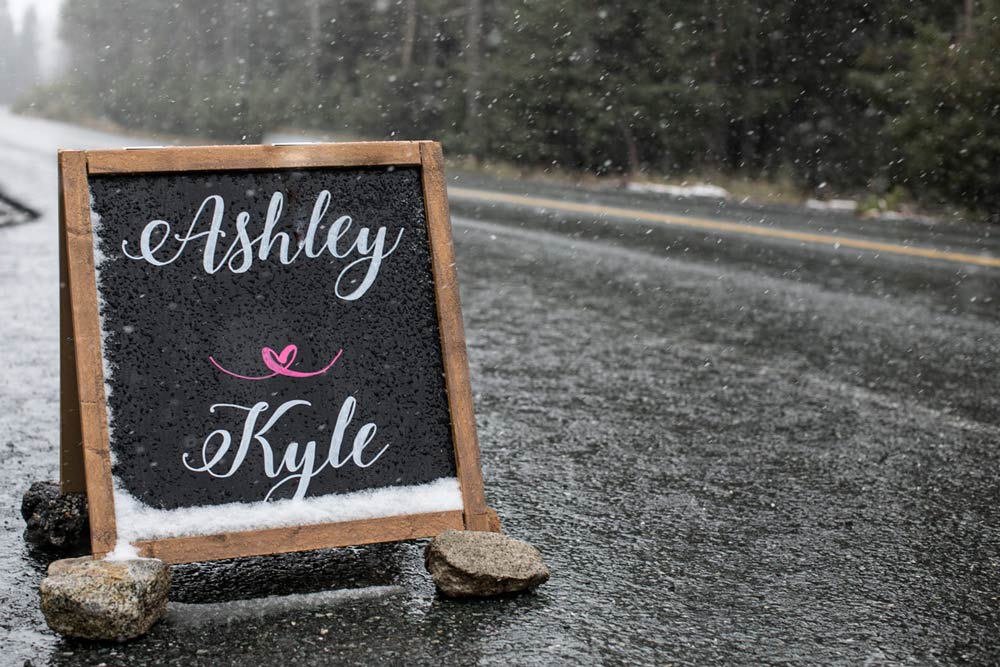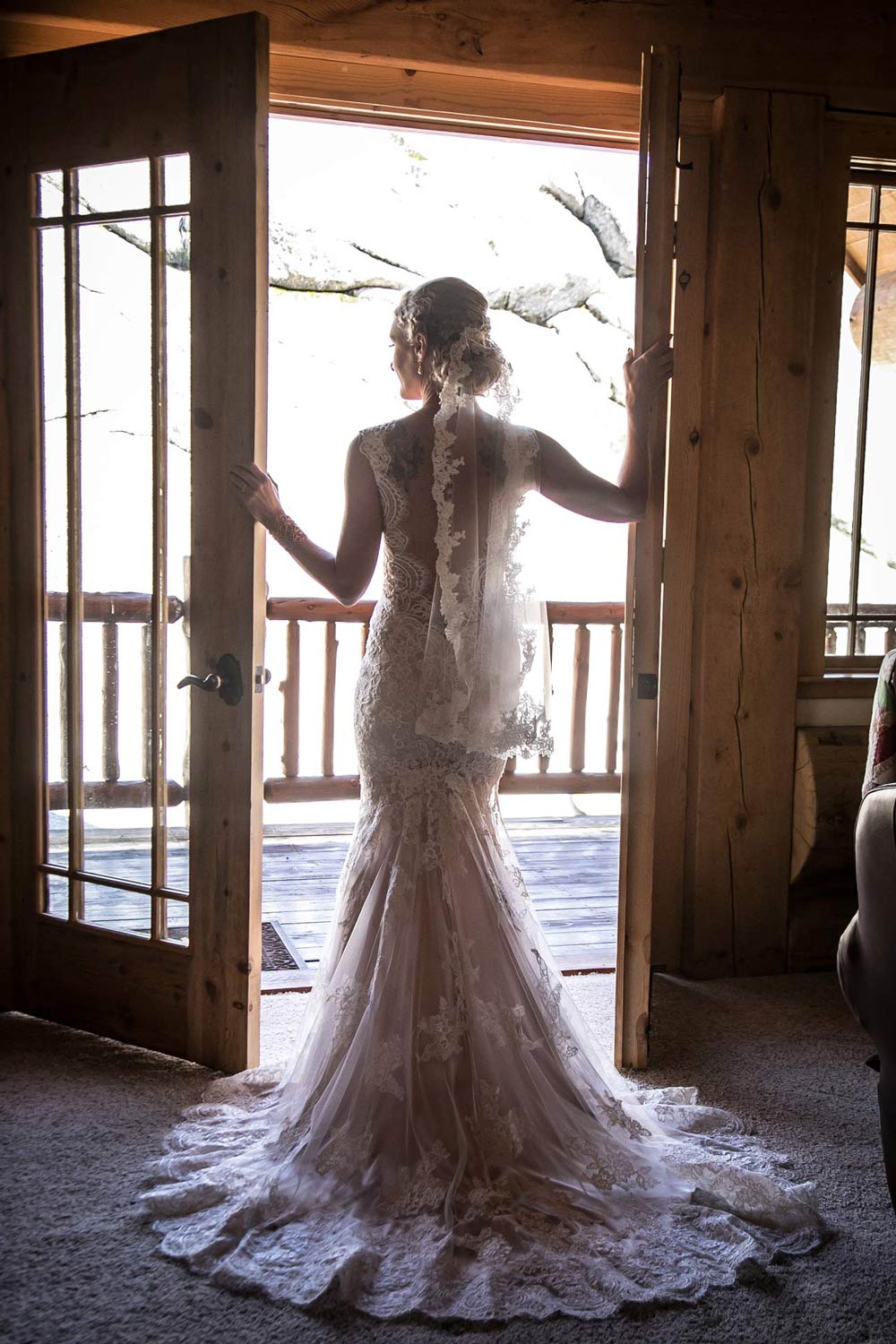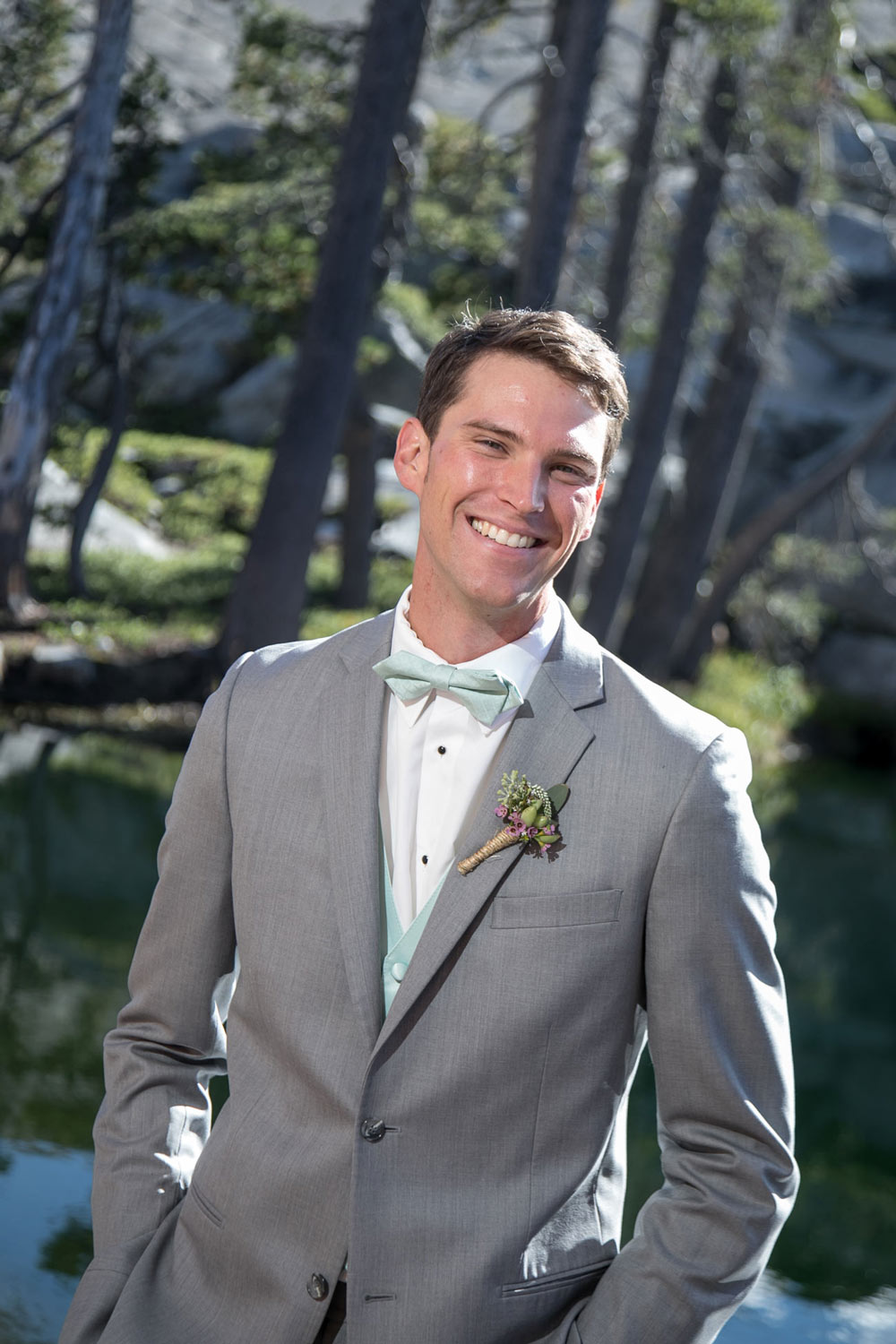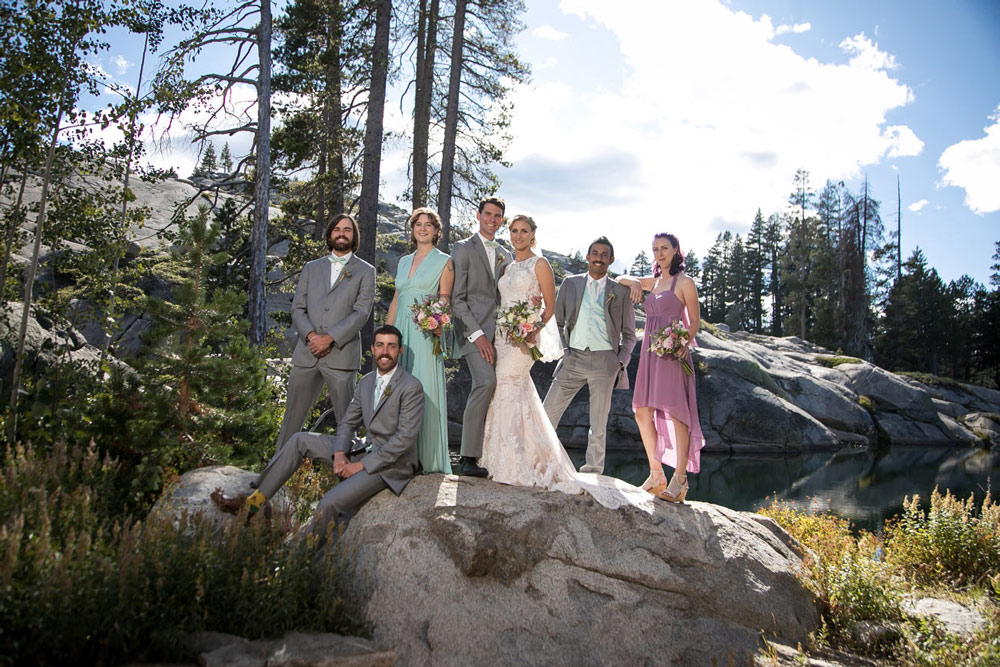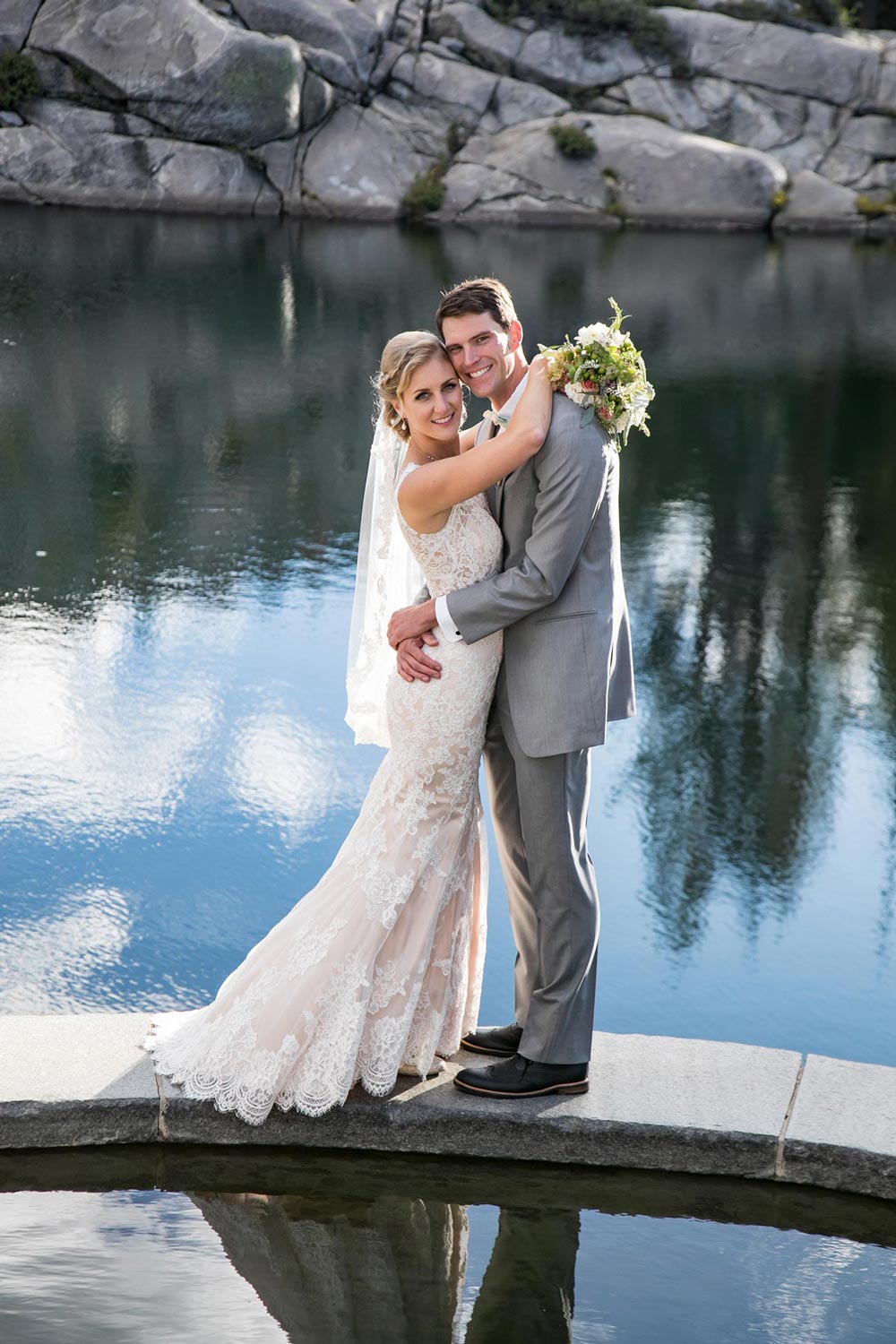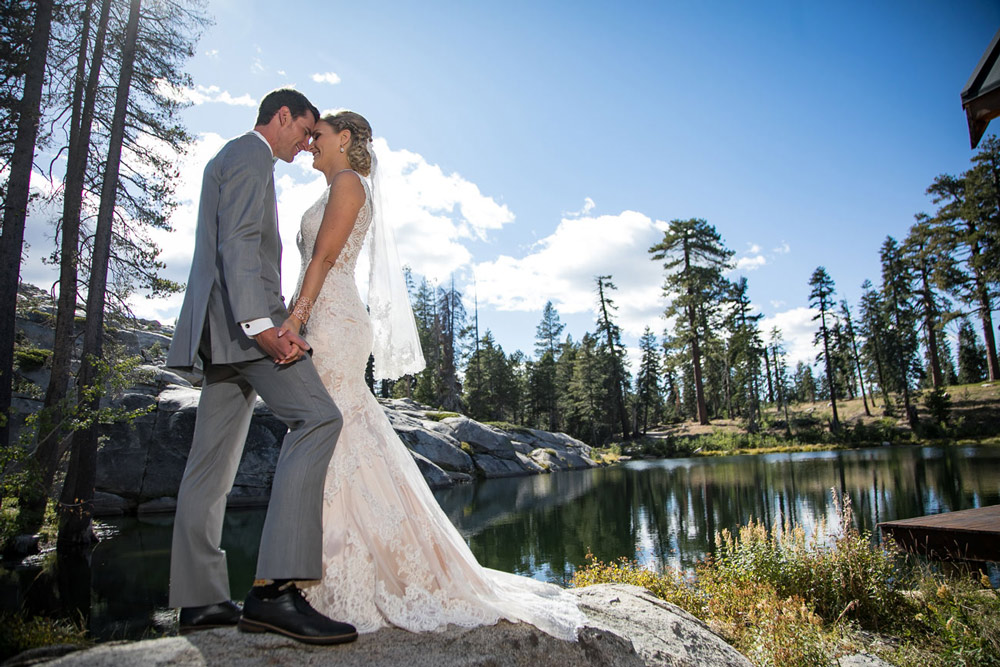 Eight months later, the couple chose a gorgeous venue in Lake Tahoe with incredible scenery. They loved how secluded their venue was and created ways to make their wedding more unique and personal to them. They both agreed that the venue was so beautiful, minimal decorations were needed. They wanted the lovely ambience to shine through! Their biggest stylistic choice was to maintain the rustic atmosphere of the venue by choosing to use a minimal amount of plastic by covering it up with more natural colors. The couple opted for wood and varying sizes of paper lanterns in peach, mint, and lavender. After placing mercury rose gold votives on each of the tables, the centerpieces consisted of white washed boxes and mason jars with baby's breath. For a more personal theme to their décor, they displayed their adventurous and outdoorsy relationship by giving each table a number of a National Park. Their wedding flowers included hydrangeas, dusty miller, peach and white roses, succulents, and lavender. Their official wedding colors were mint, lavender, peach, and grey. The couple explained that they were inspired when they saw these colors all together.
Ashley wore the very first dress she tried on from Allure Bridal. The perfect dress was a trumpet style gown with colored lining and an elegant lace overlay. The sleeveless style and buttons going all the way down the back was perfect for their natural theme. She paired her dress with a simple lace detailed veil. The dress accentuated the right parts, even if it was hard to sit down! The completed look fit perfectly with their wanted atmosphere, and with her hair in a beautiful updo style, Ashley was a dazzling, vintage bride!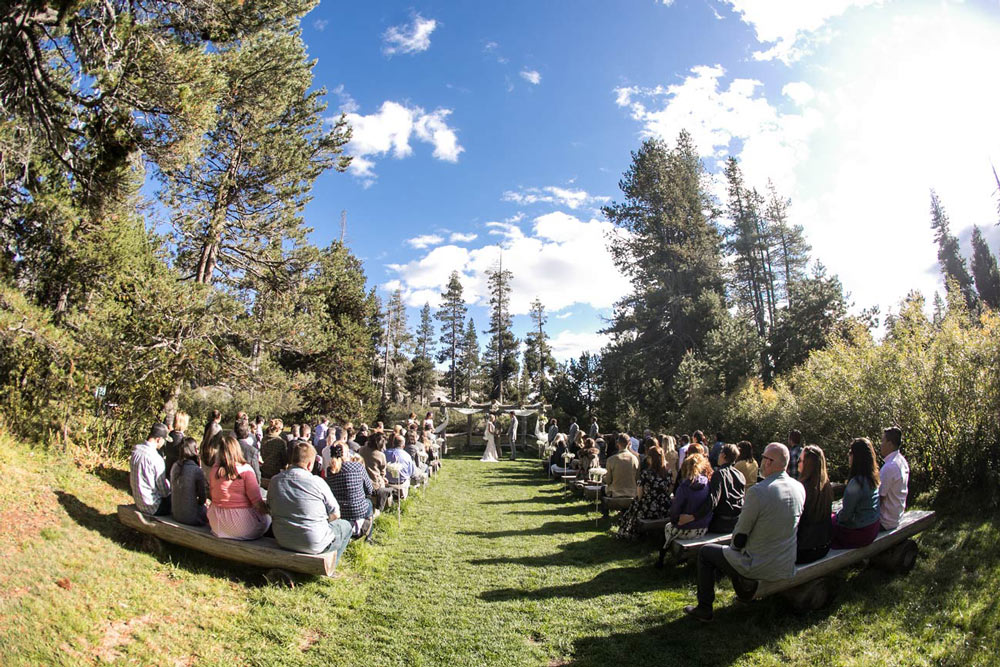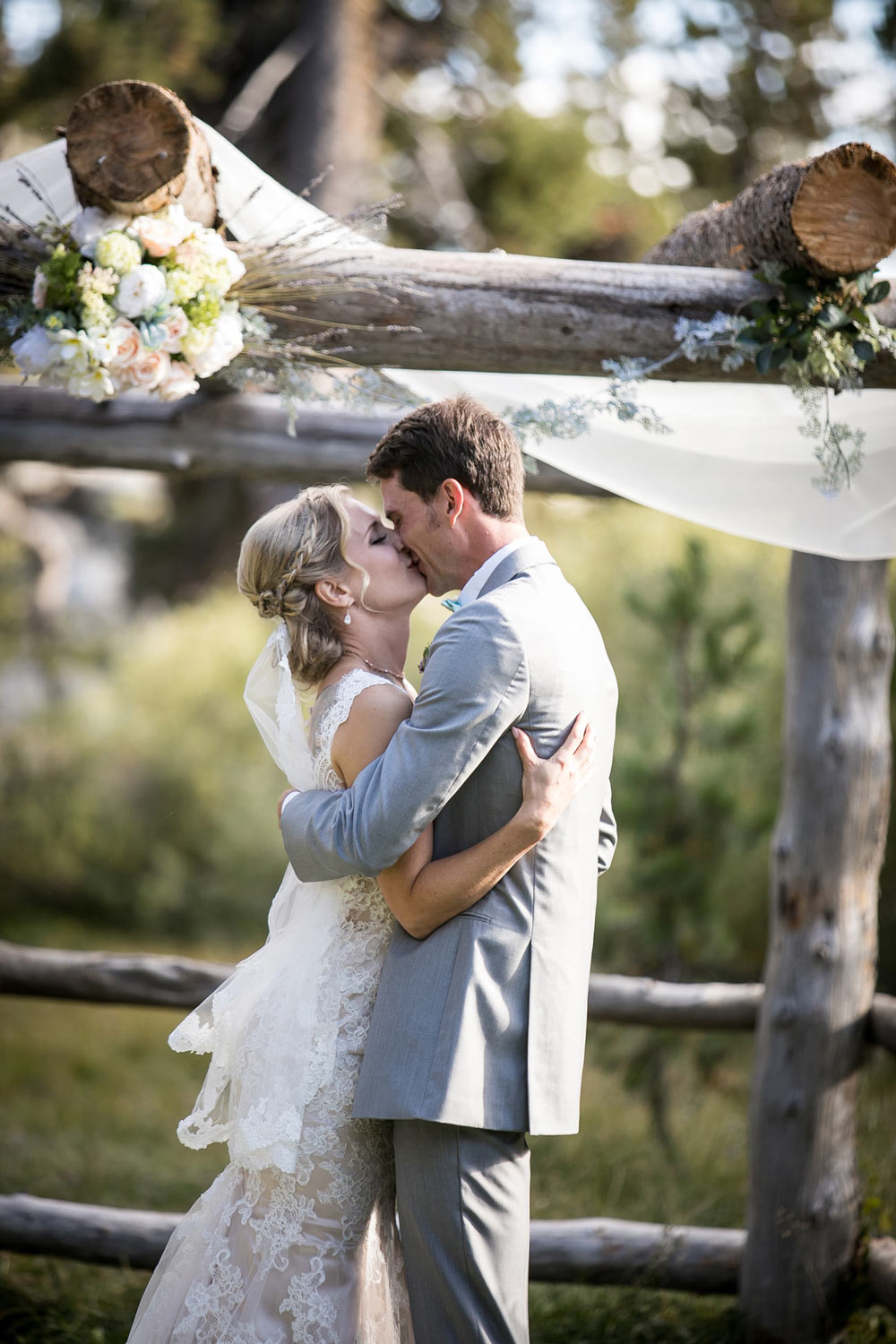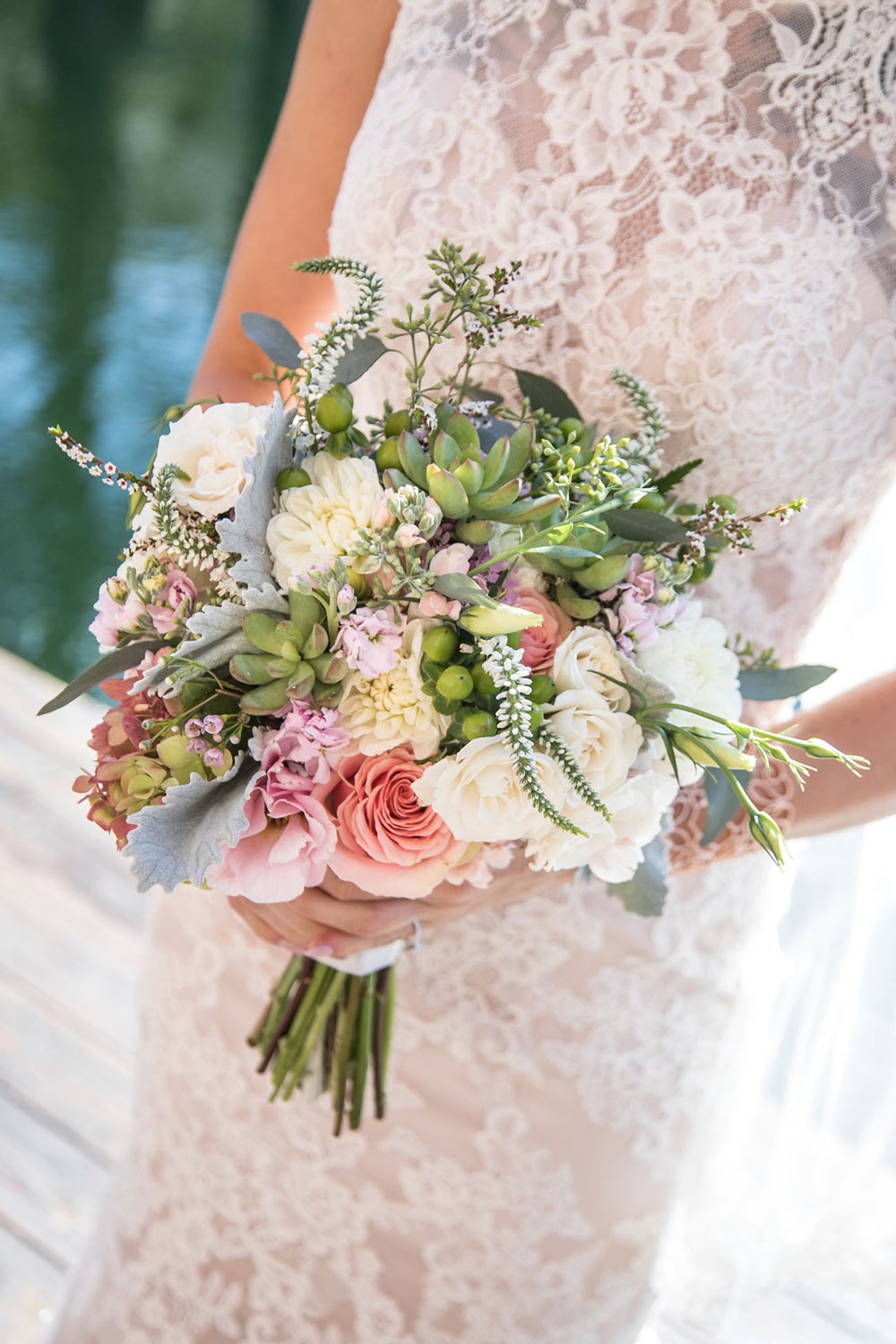 Kyle's favorite part of their romantic day was sharing their vows with one another. Ashley's was documenting their experience by open rock faces with beautiful, clear water in the background. Their photos by Bucheli Photography showcased their wonderful day as well as the beauty of the location. The couple were both surprised at how quickly the day went by even with the multiple hours of snow that occurred the day before!
Their guests enjoyed food from Mother Lode Deli, including tri-tip with gorgonzola fondue, cilantro lime chicken, garlic mashed potatoes, vegetables, and Ashley's father's home-brewed beer on tap. Later, they enjoyed red velvet, carrot cake, and lemon cupcakes, as well as a two-tiered lemon curd and vanilla cake. Their cake was decorated to look like a piece of a tree, with the addition of a few flowers. Their adorable cake topper was a couple on a tandem bike. Ashley created her own invitations for 100 guests with the help of a local printer.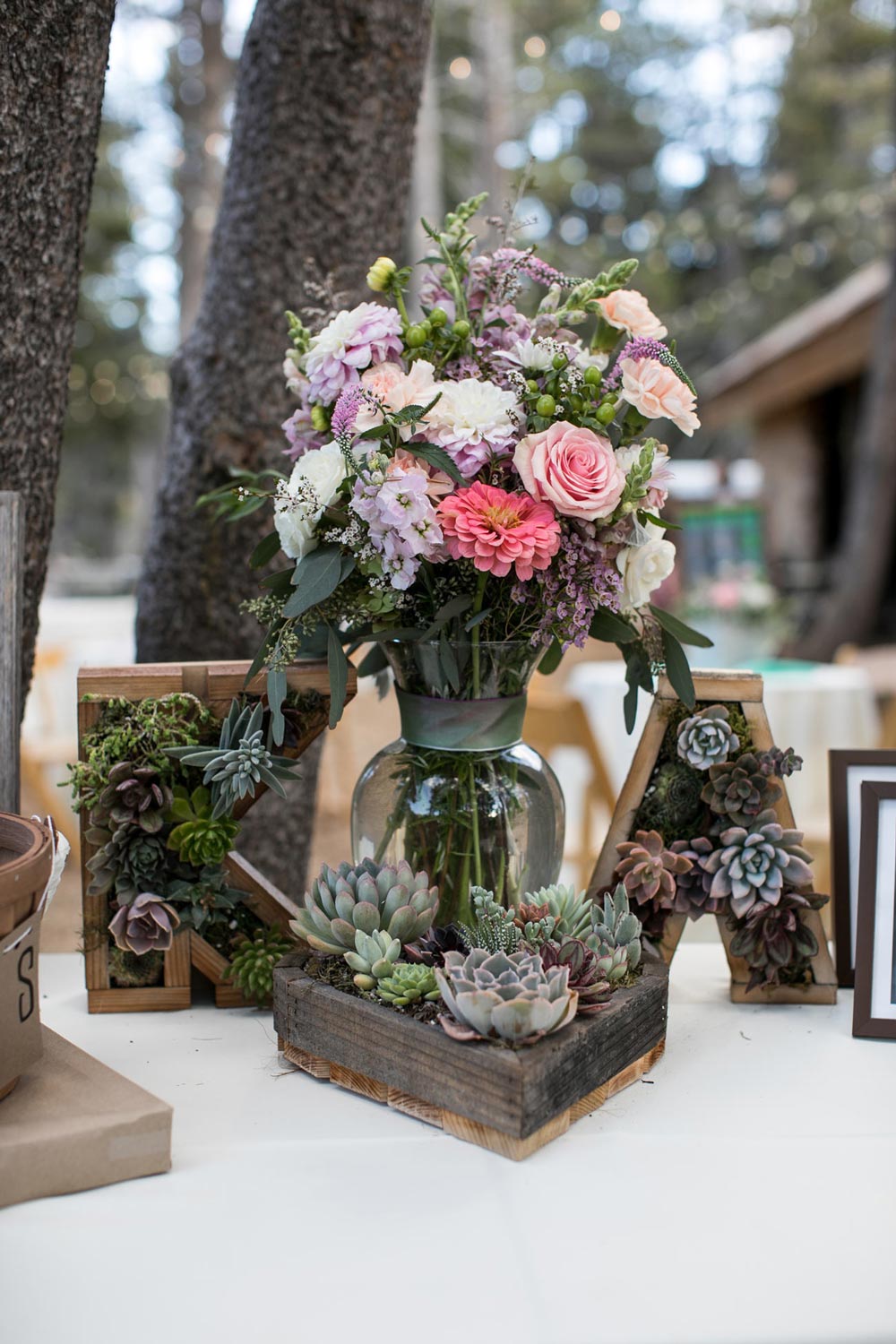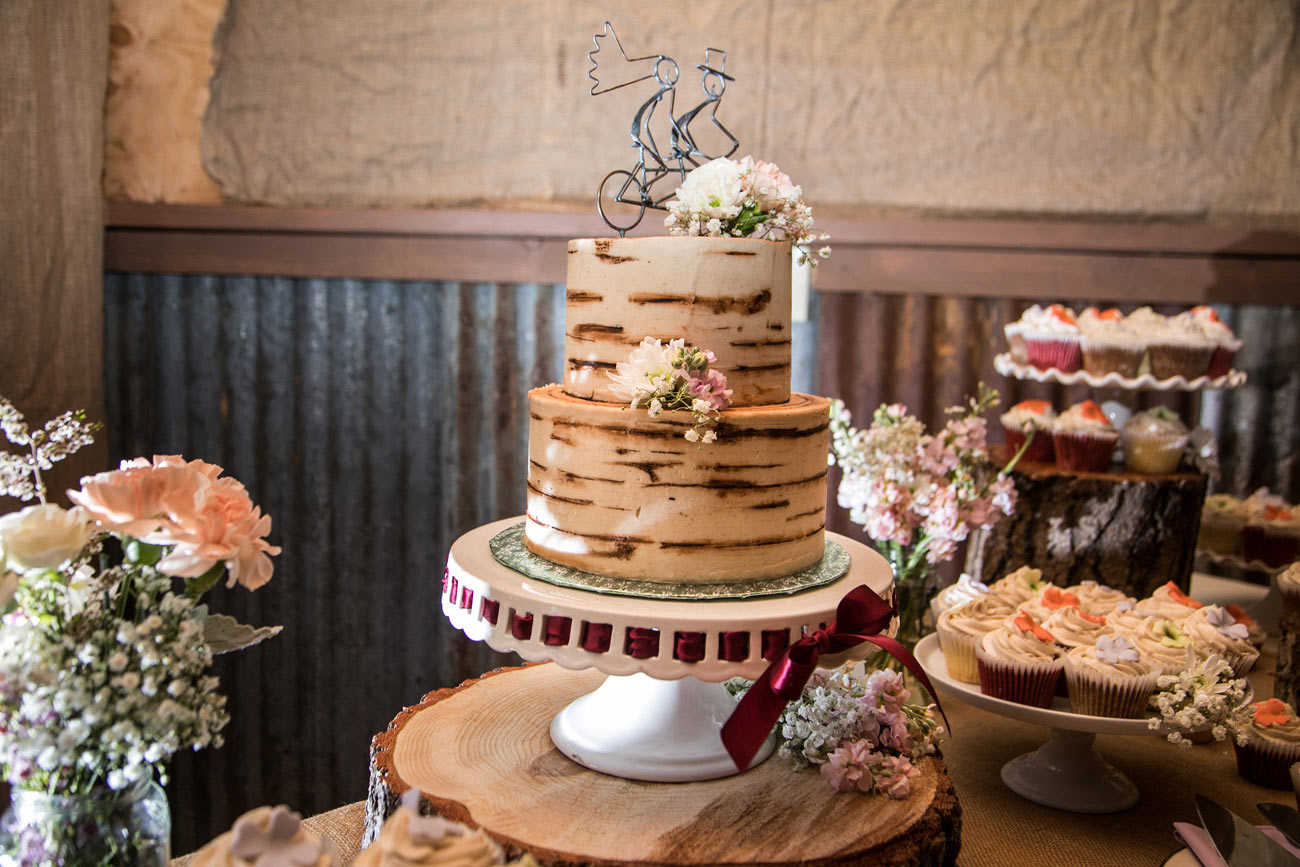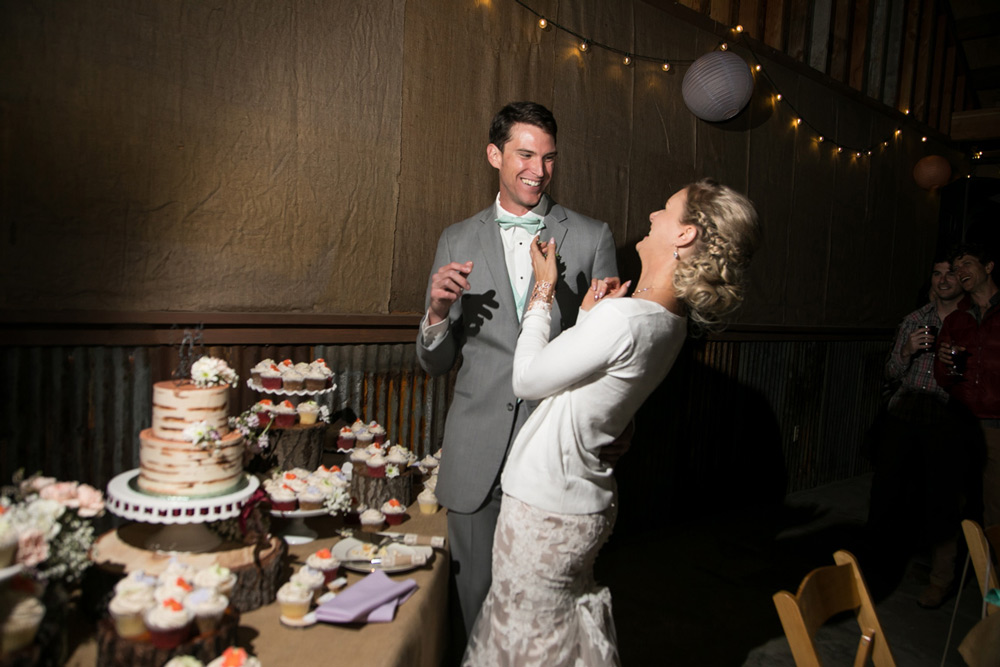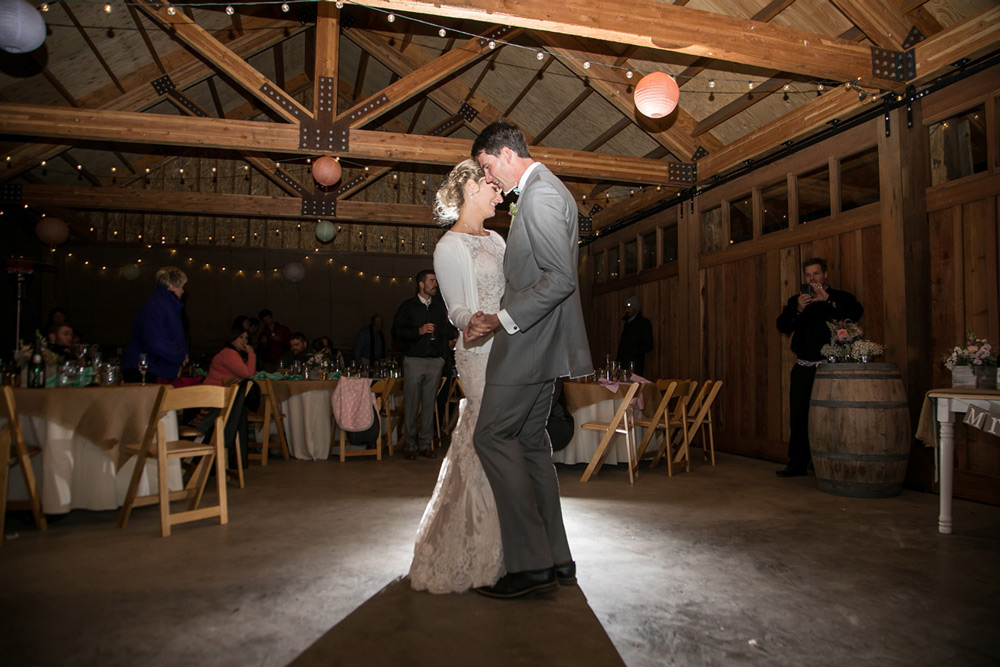 Ashley's advice to other couples getting married is to have pre-written checks for vendors. She suggests giving these to day-of coordinators to pass out as needed. It's no fun to keep finding your checkbook during the party when it's time to enjoy! She also says to try to not stress about the things you can't control, like the weather, but taking some vitamin C after the wedding is not a bad idea after all the hugs and handshakes. No one wants to get sick when they are jetting off on their honeymoon. Ashley and Kyle both suggest enjoying every moment because it goes by very fast! Kyle suggests eating a bigger lunch before all the craziness begins. He explained that by the end of the night, he was starving! He also recommends focusing on yourself and not just worrying about the well-being of your guests. It's your day and it's about you as a couple!
*The featured image at top of post was 1st Runner Up in the Winter/Spring 2018 Cover Contest. Congratulations!
PHOTOS: Bucheli Photography
[venue] the hideout [planner] blue sky events [rentals] party smart rentals [catering] mother lode deli [cake] tahoe bakery [flowers] kathy's flowers [gown] de la rosa bridal [formal wear] men's wearhouse [makeup/hair] tahoe weddings a go go [entertainment] high sierra sounds