The "Joker" met his match when Tong and Danielle connected.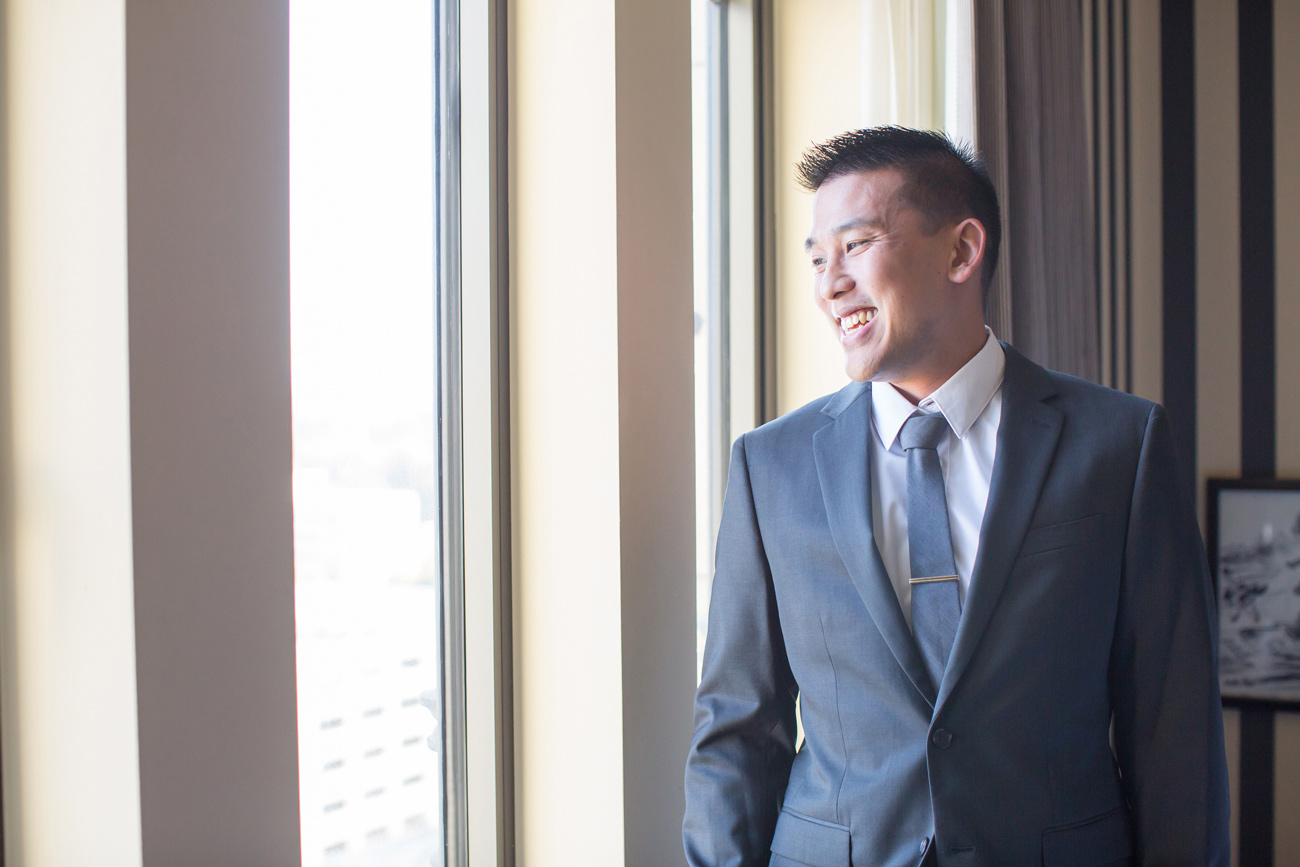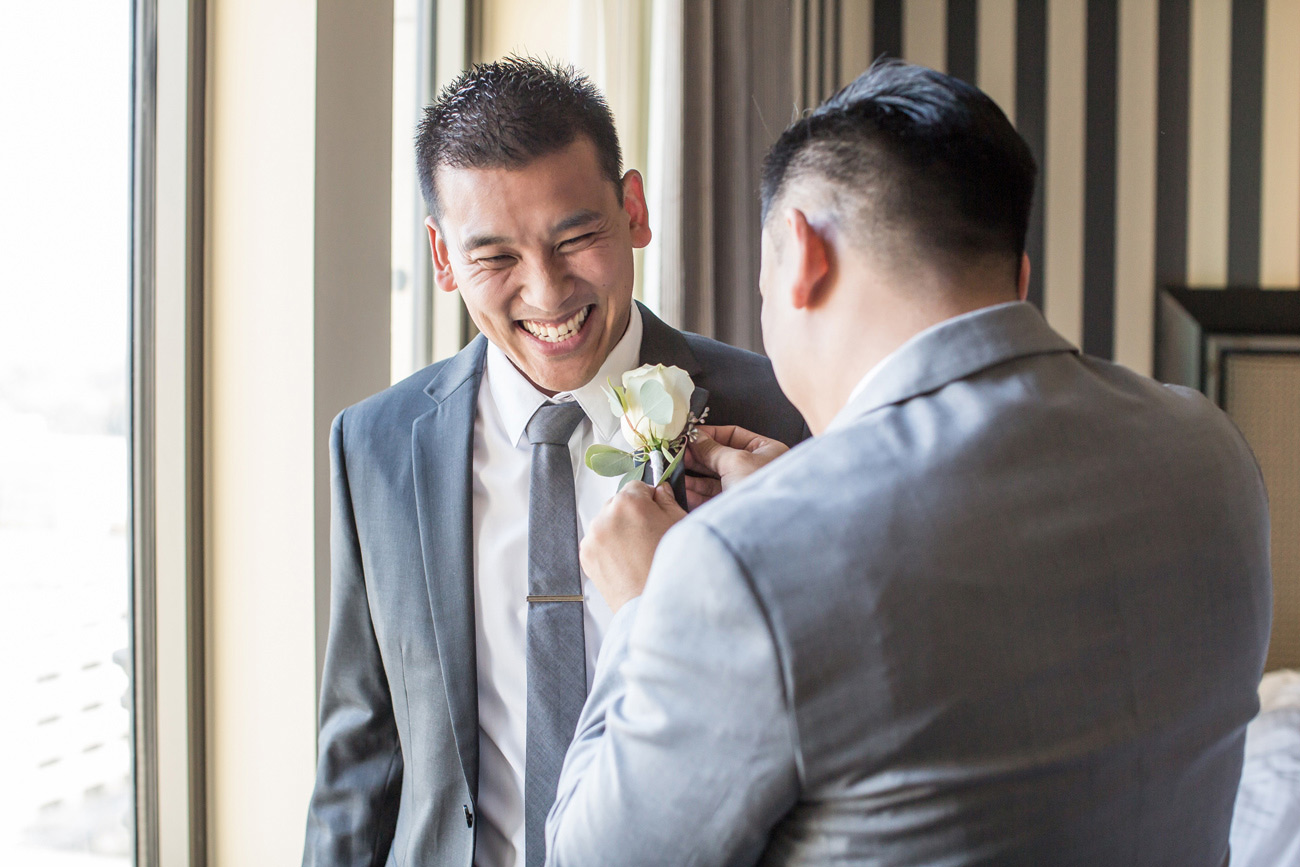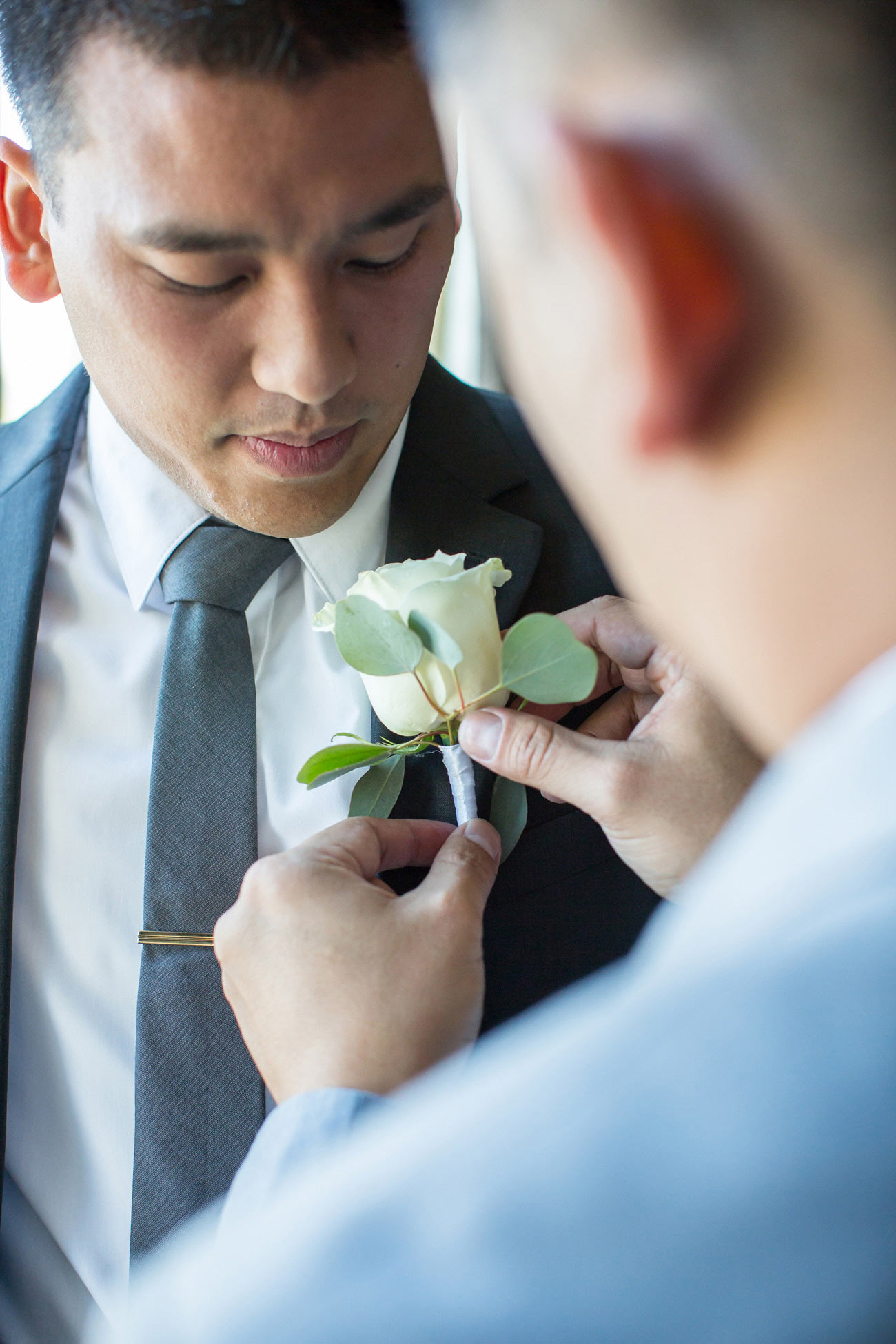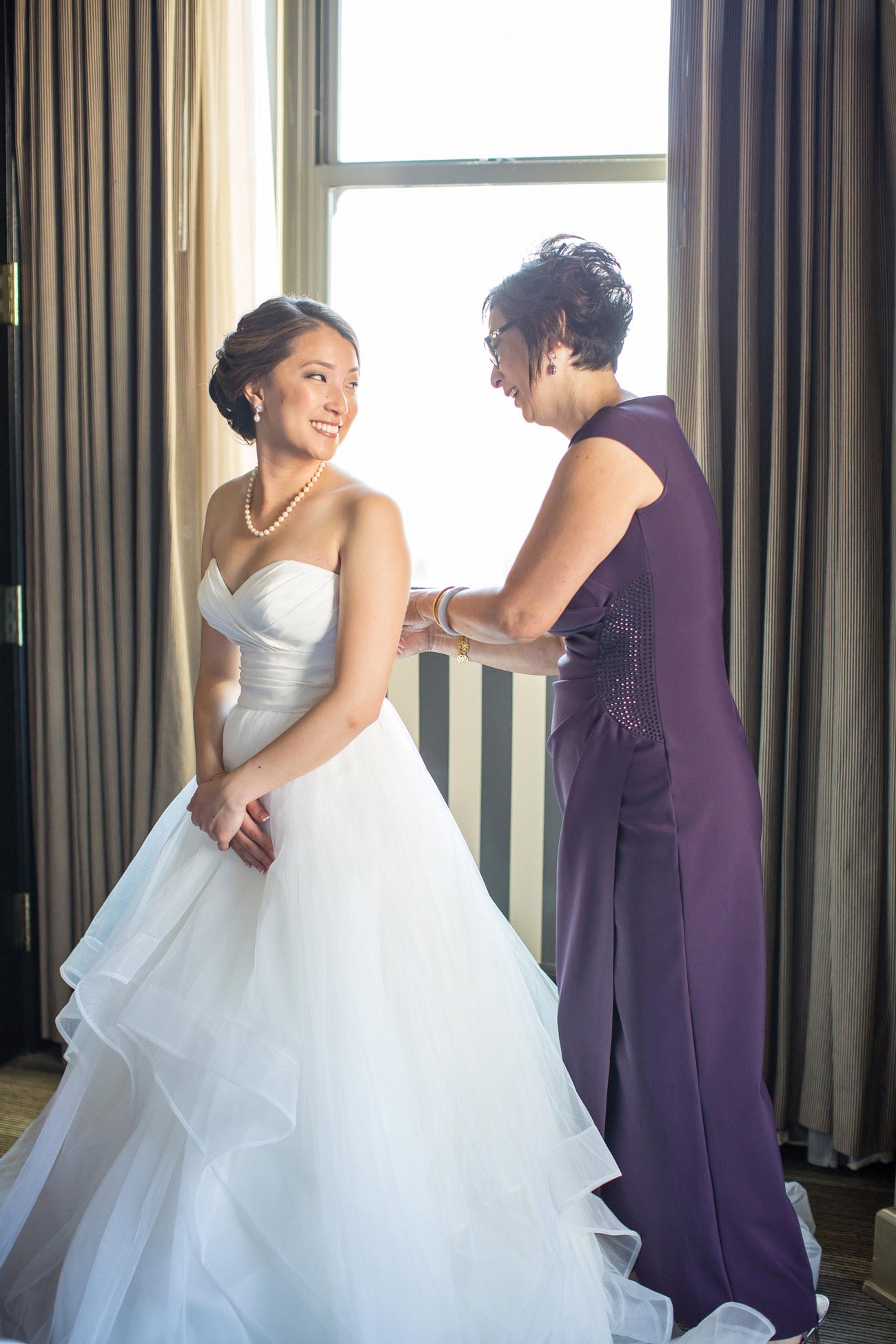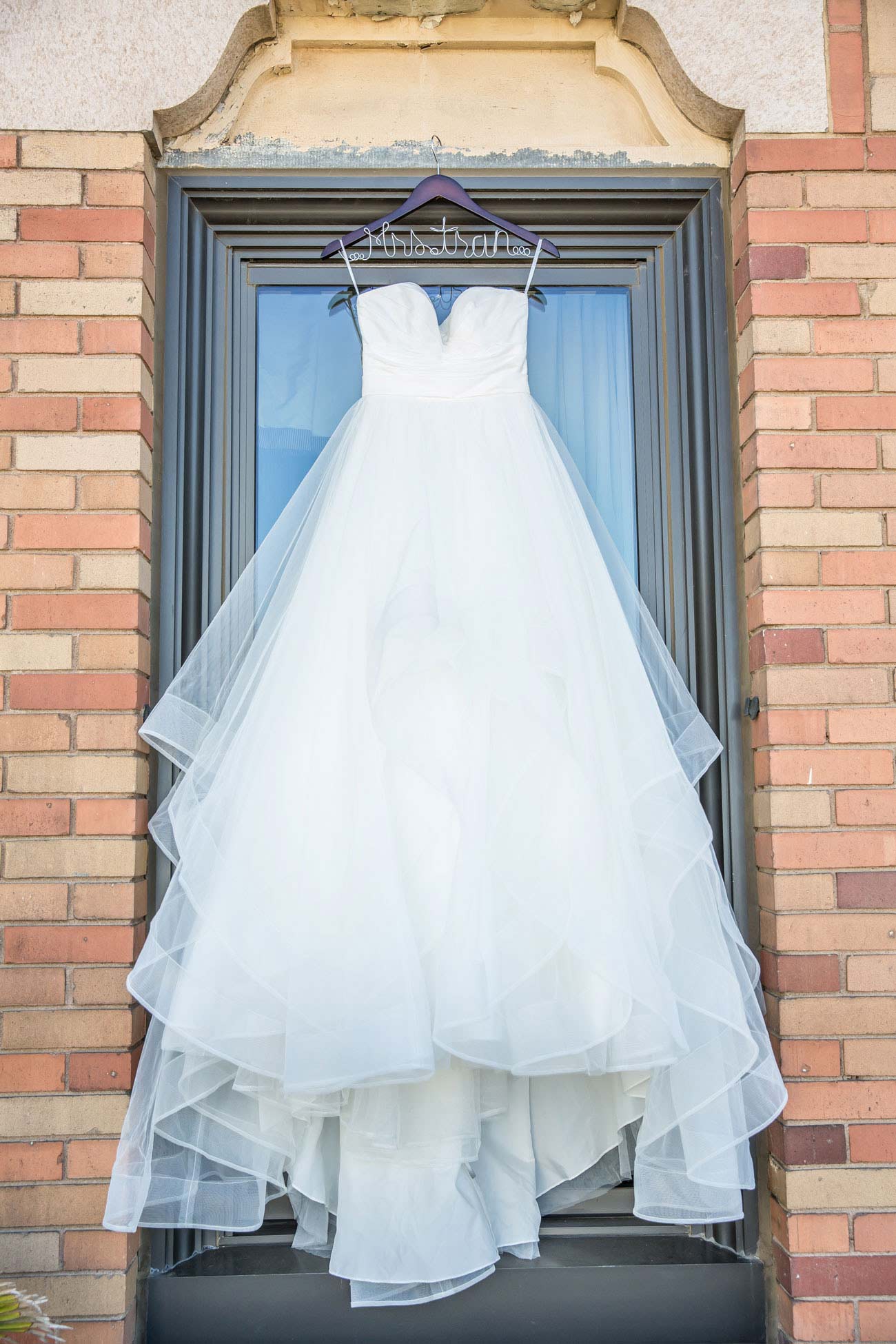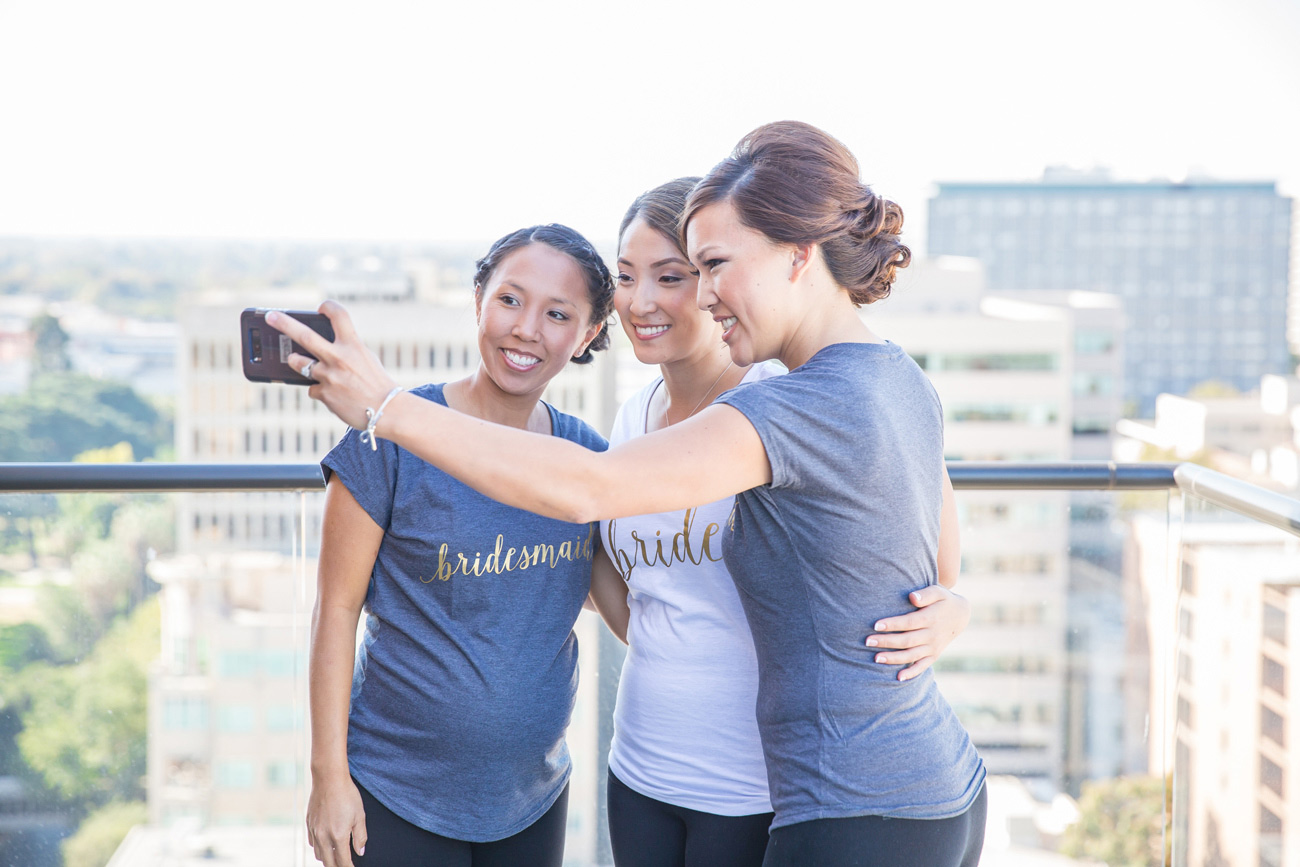 Danielle was employed at the same place as Tong's brother, and so they ran into one another occasionally and a casual friendship followed. But this love story really starts in San Francisco. One of Danielle's friends was celebrating her birthday in the City by the Bay, and Tong was invited along. The birthday girl decided it would be fun to drive around San Francisco to enjoy the sights. Naturally, the tour stopped at the city's most picturesque (and coincidentally, romantic) spots, like the hill they found that overlooks the Golden Gate Bridge.
Who's to say whether this is where Danielle and Tong fell in love? In any case, Danielle's friend Nhung helped make it possible. Perhaps she realized that even though it was her birthday, she had a chance to give Danielle and Tong the best gift of all.
Danielle was charmed by Tong. Quick to smile and laugh, he's the guy who likes to play practical jokes on his friends, which she found amusing. Most of the time, anyway. The time he presented her with a "birthday cake" that was really a balloon covered in frosting? Not so much – the first slice popped the balloon and BANG! Frosting everywhere.
And Tong was hooked on Danielle. She was sort of like one of the boys – ready to hang out late into the night and not afraid to call everyone out. But, Tong says, she is "an emotional person who wears her feelings on her sleeves, which kind of scared me" but he says he has learned a lot from her, since he is the opposite.
Danielle had always had skydiving on her bucket list, but she could never pull the trigger. She said she would only do it once, and it had to be somewhere with a spectacular view. But a trip to Hawaii planned by Danielle's parents presented the perfect opportunity and Tong booked a jump.
Shortly before the trip, Tong asked her parents for her hand in marriage, and began planning his proposal from there. He let the skydiving company in on his scheme, and arranged that he would jump out of the plane first and Danielle would jump out last, so he could prepare himself before she landed. He jokes, "I figured Danielle would be dazed after the freefall, and that she would just say yes without really thinking. Lucky for me, it worked!"
When Tong touched down, Danielle's parents were there waiting with the ring. He has especially kind words for his in-laws, saying "Her parents are the best. They have treated me like a son since the day I met them."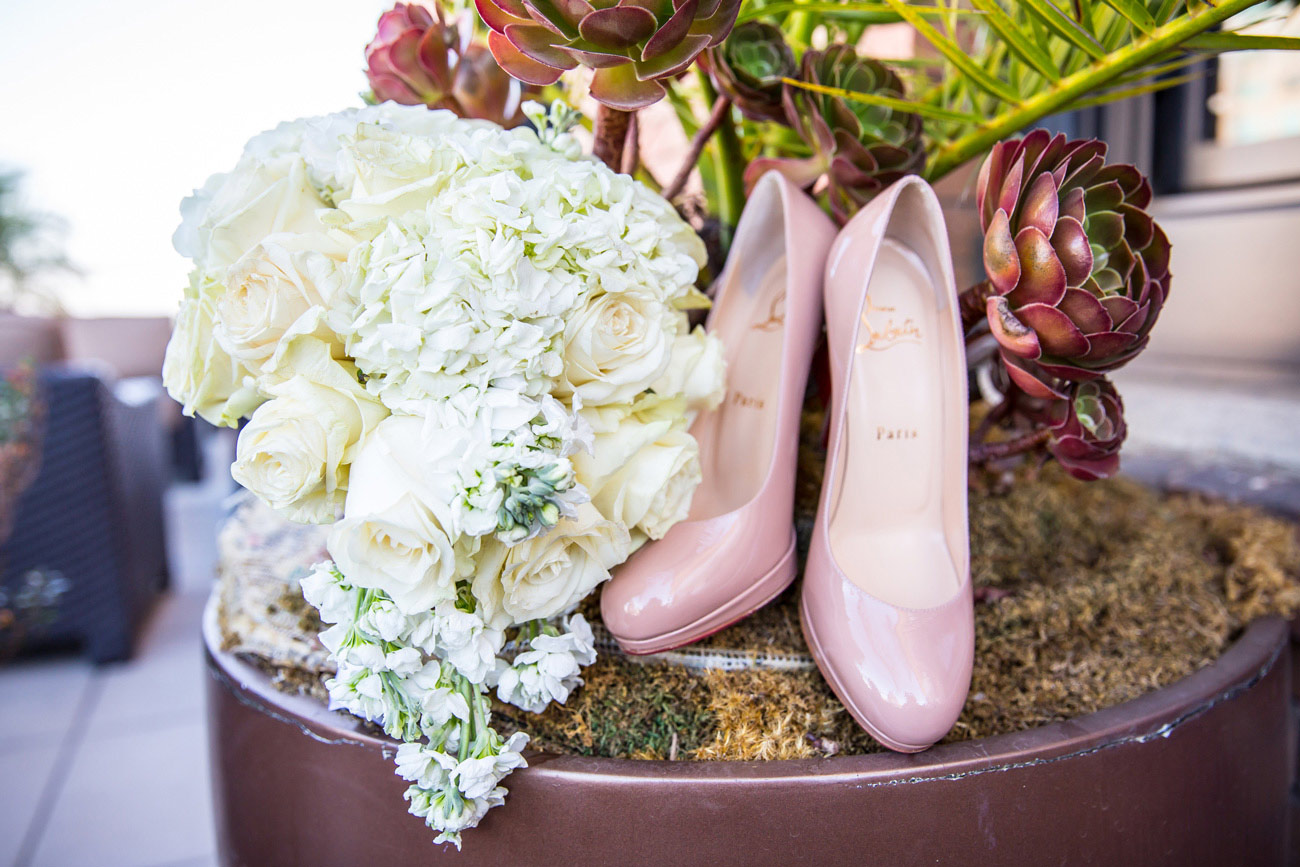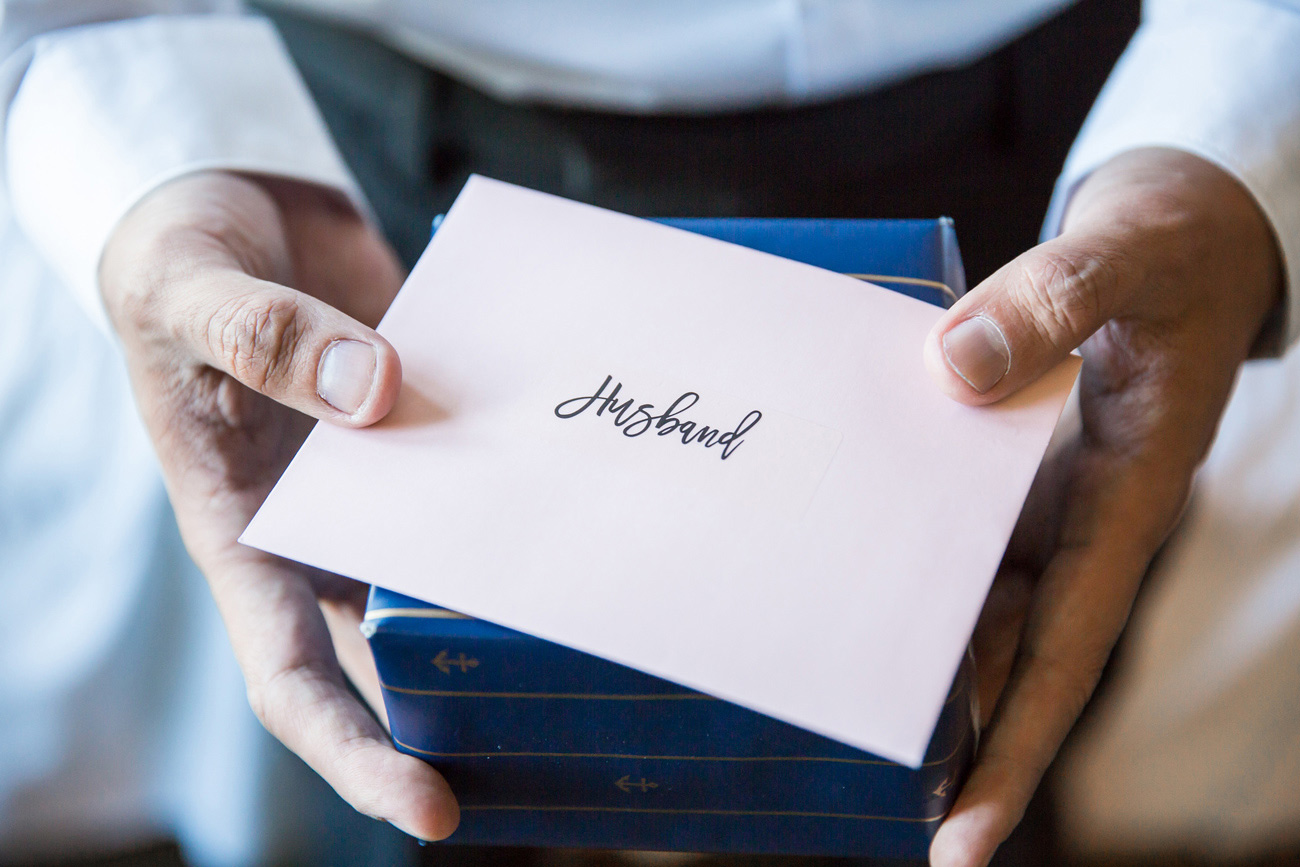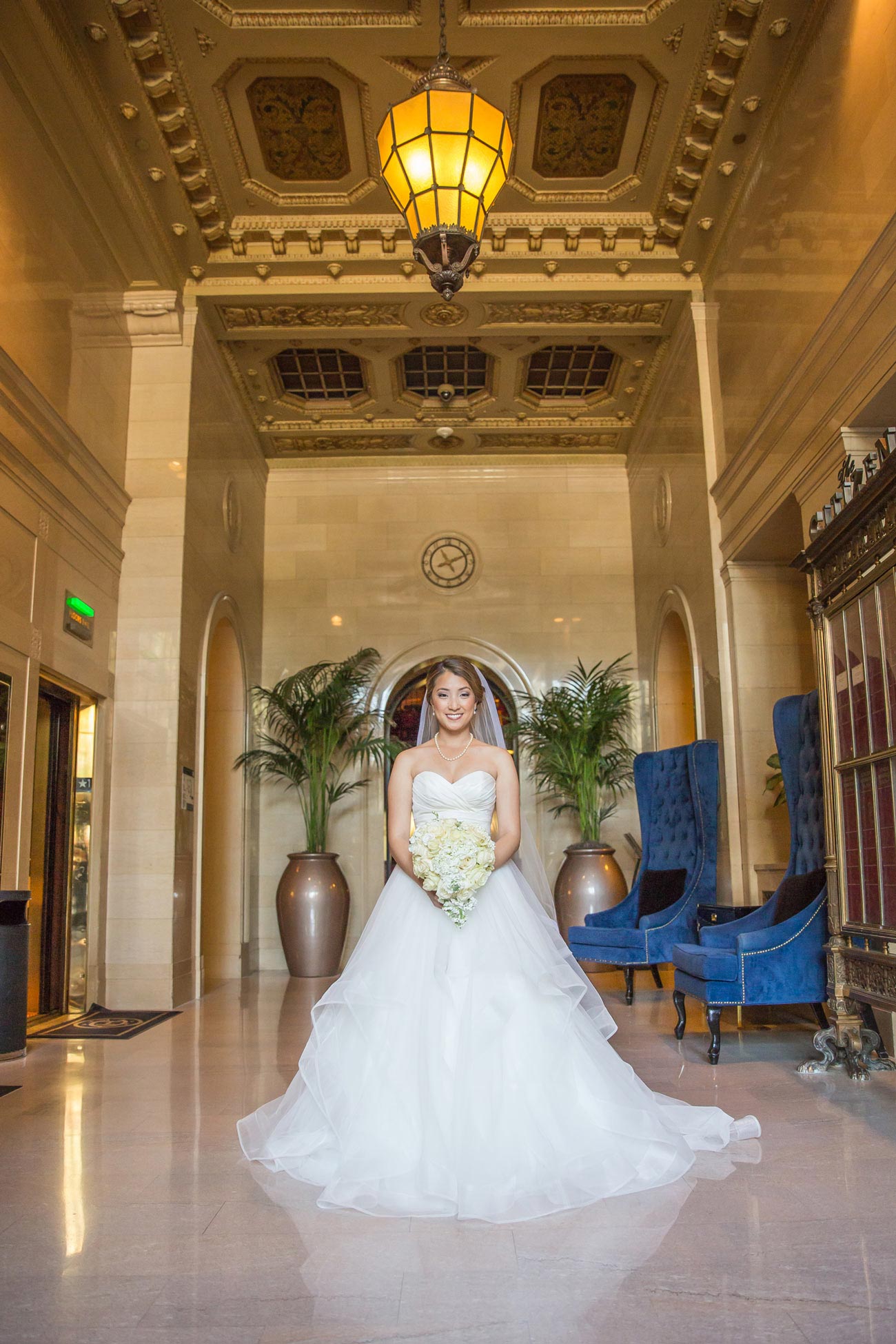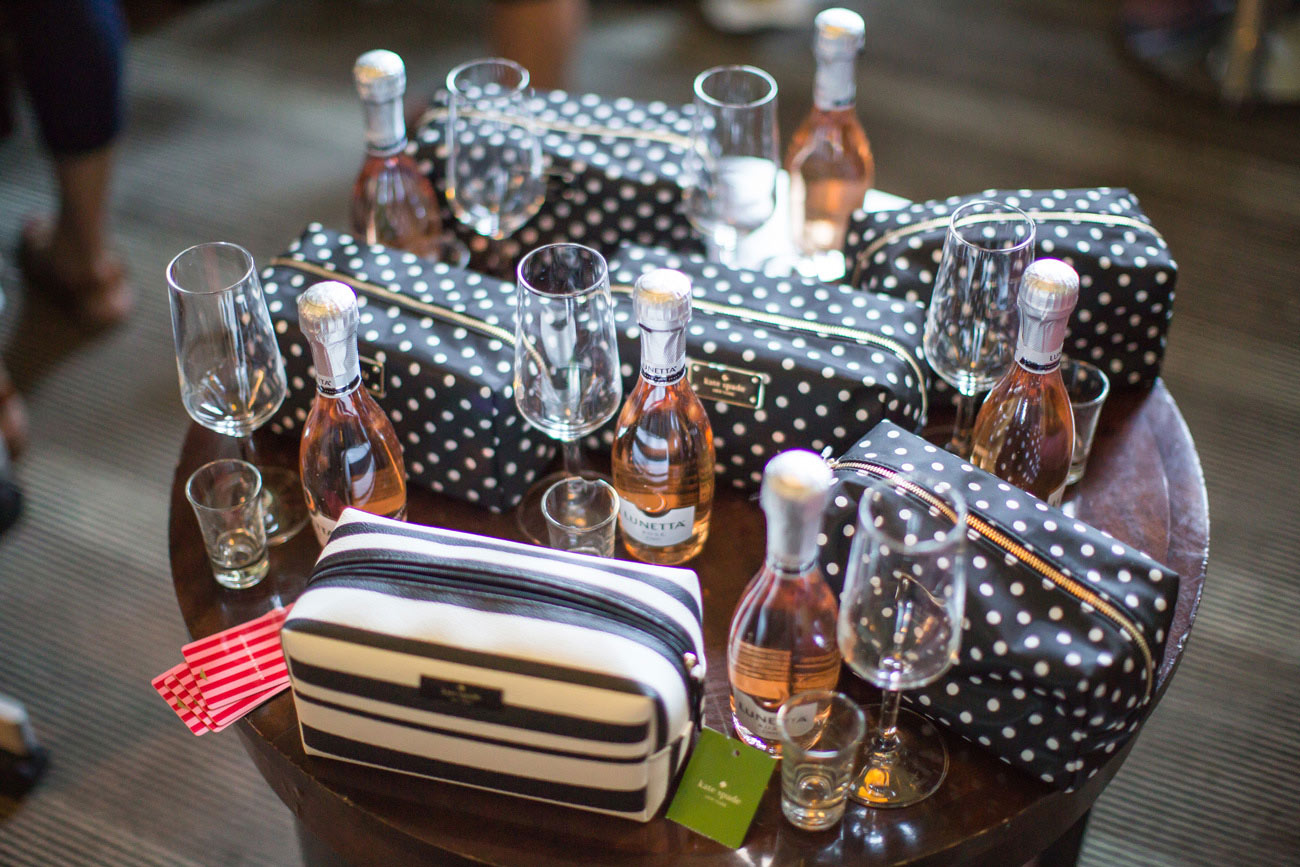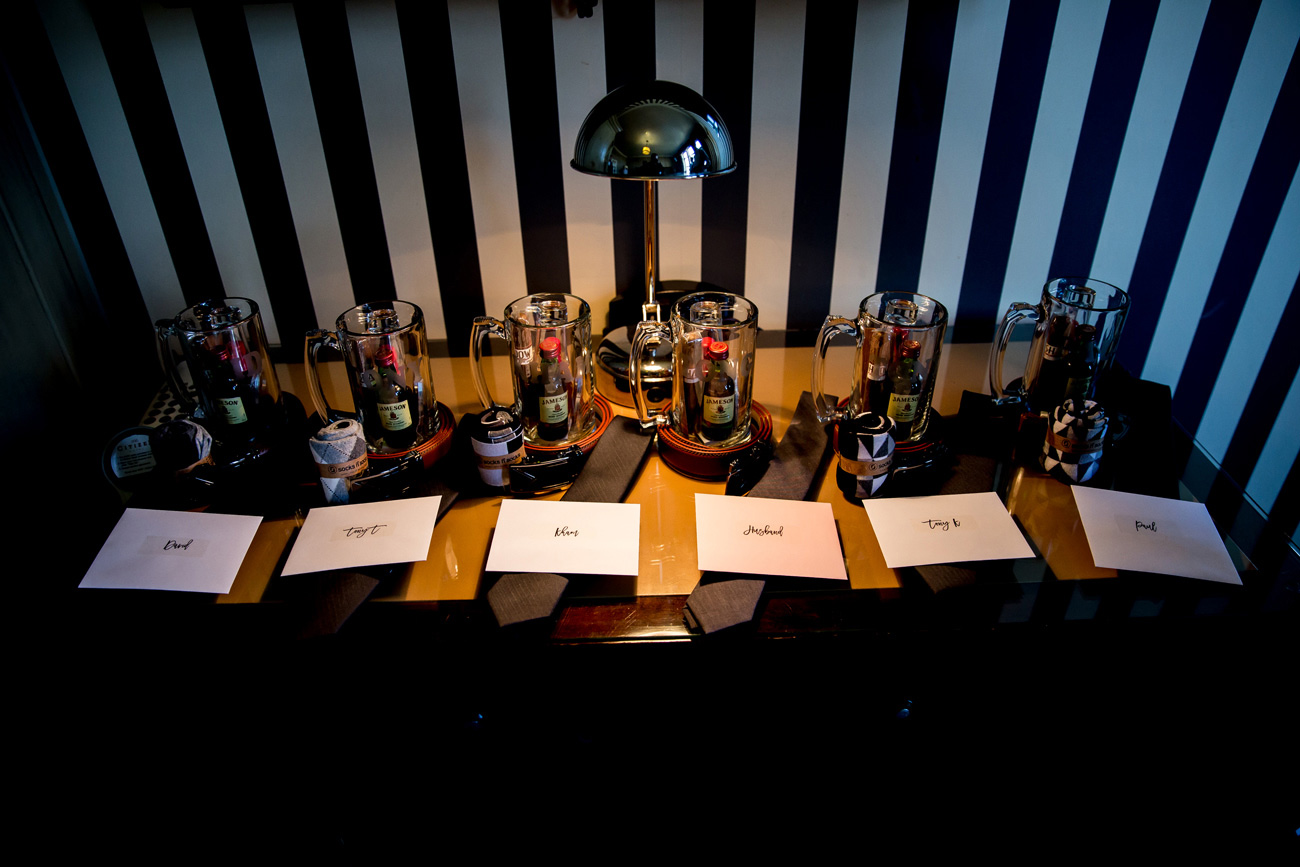 When it came time to choose the perfect wedding dress, Danielle recalls, "I tried on so many different dresses in different price ranges, but at each place we went to, I seemed to be picking the same type of dress – I really liked the sweetheart top with ballgown bottom. I made my final choice because it looked the best for my body type. I had to have almost no alterations done."
Fast forward to the wedding day, which saw the couple tying the knot at Sacramento's Cathedral of the Blessed Sacrament. Transportation was handled in style by one of the groomsmen, Tong's friend David who delivered the newlyweds in style in his 1954 Chevy Bel Air Coupe.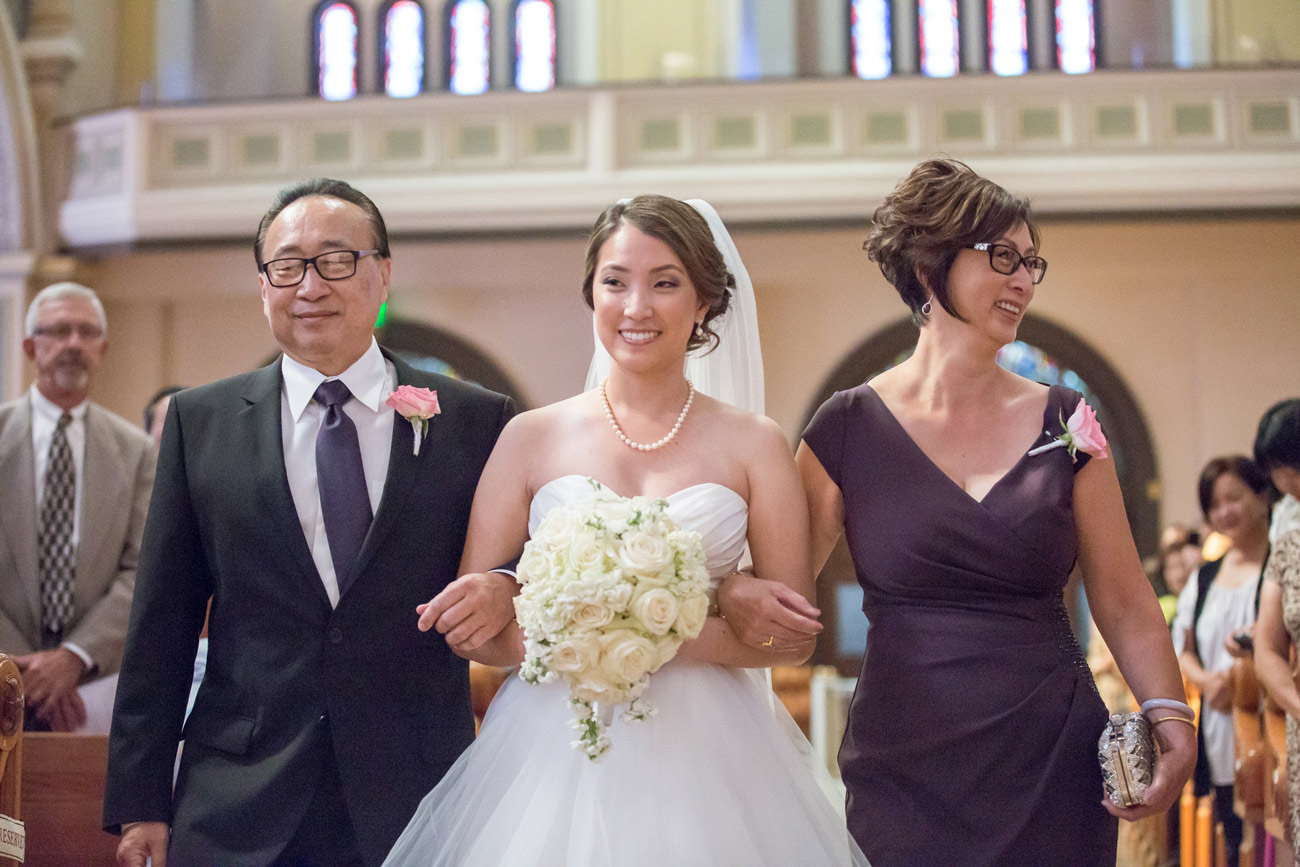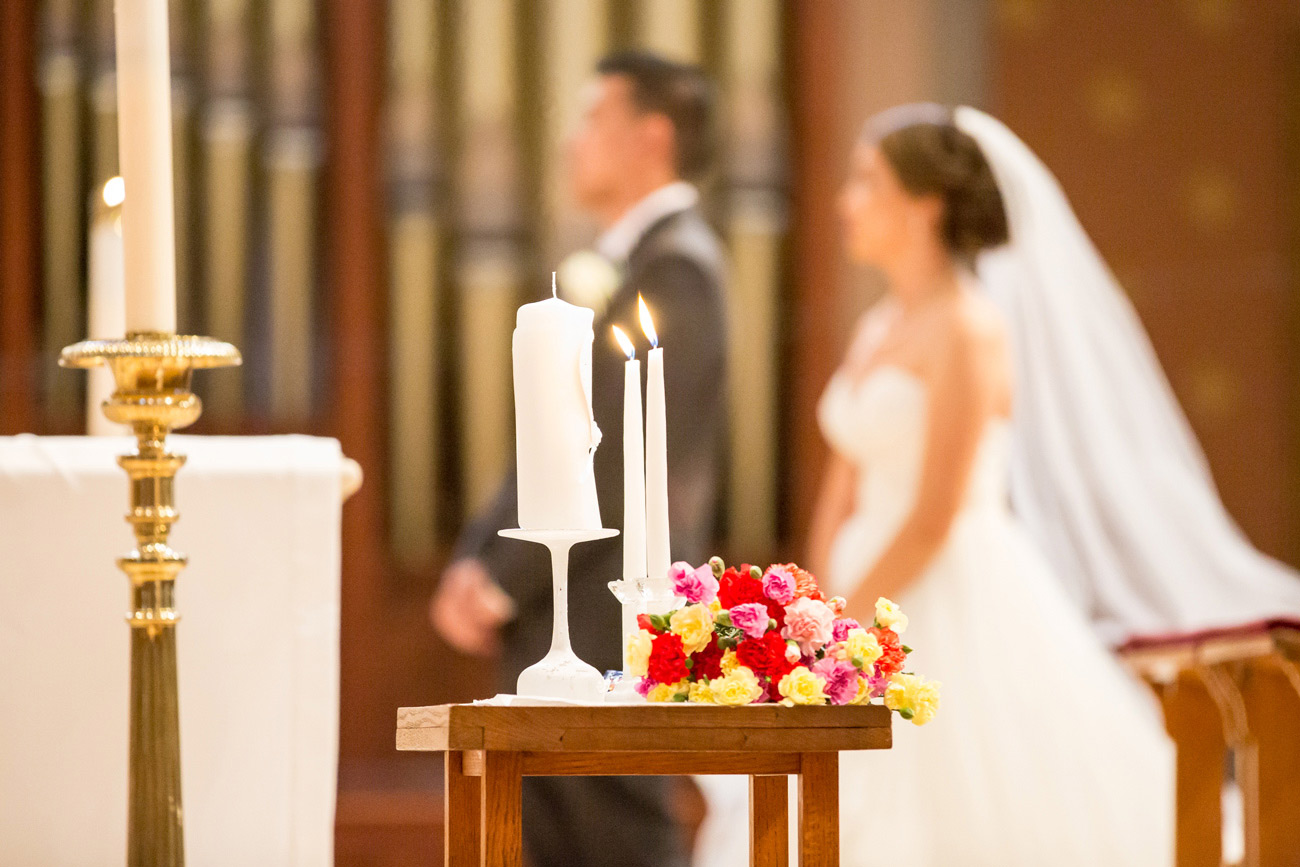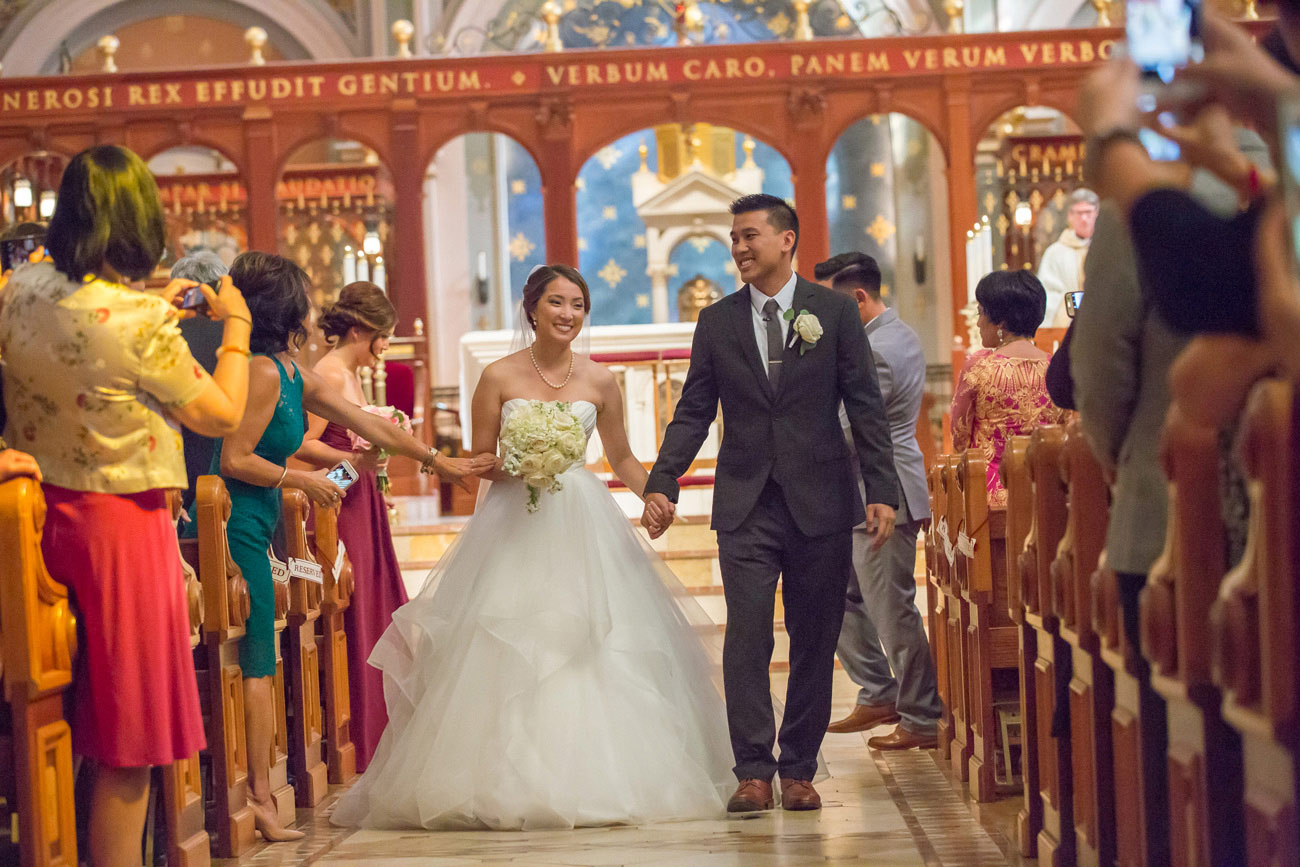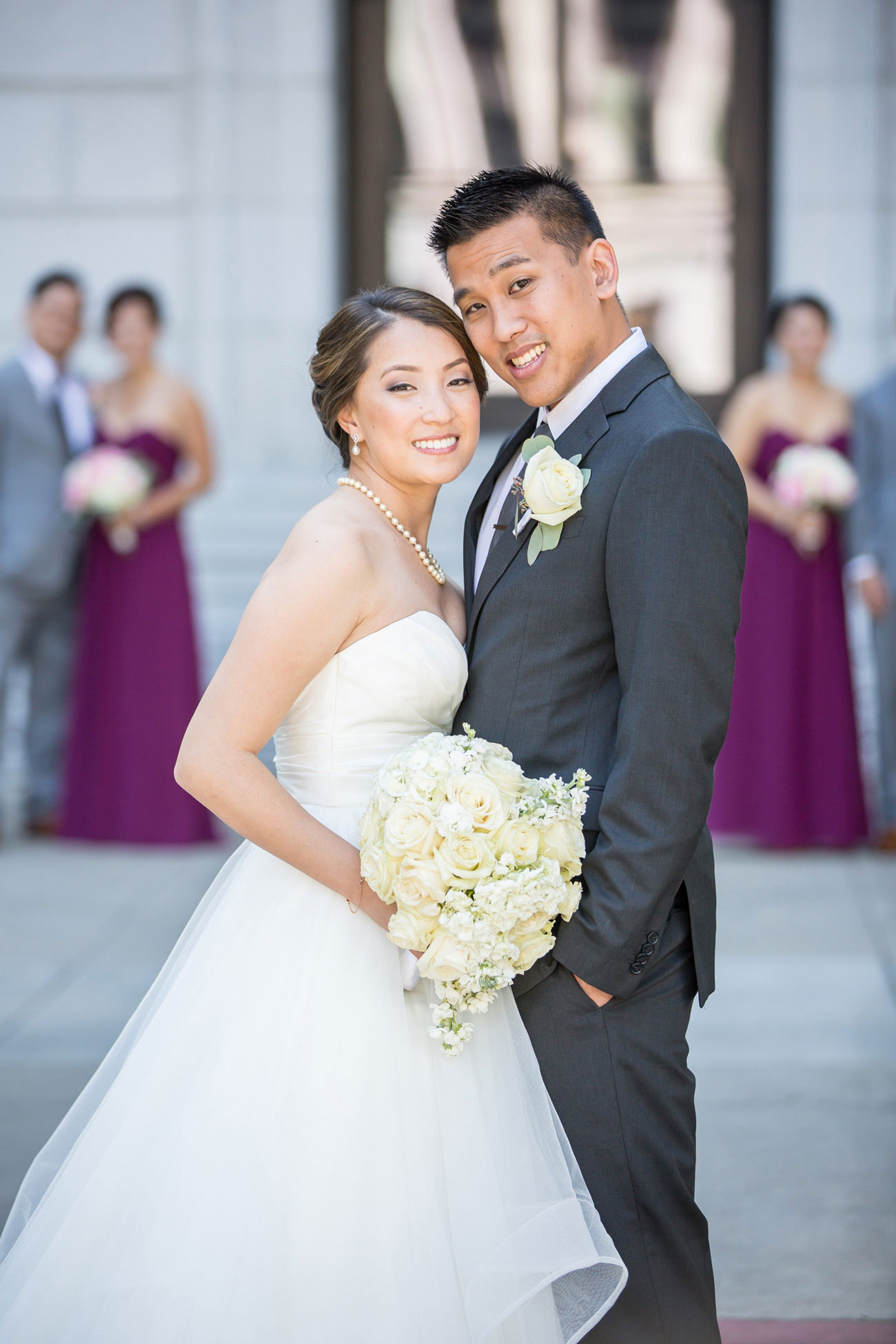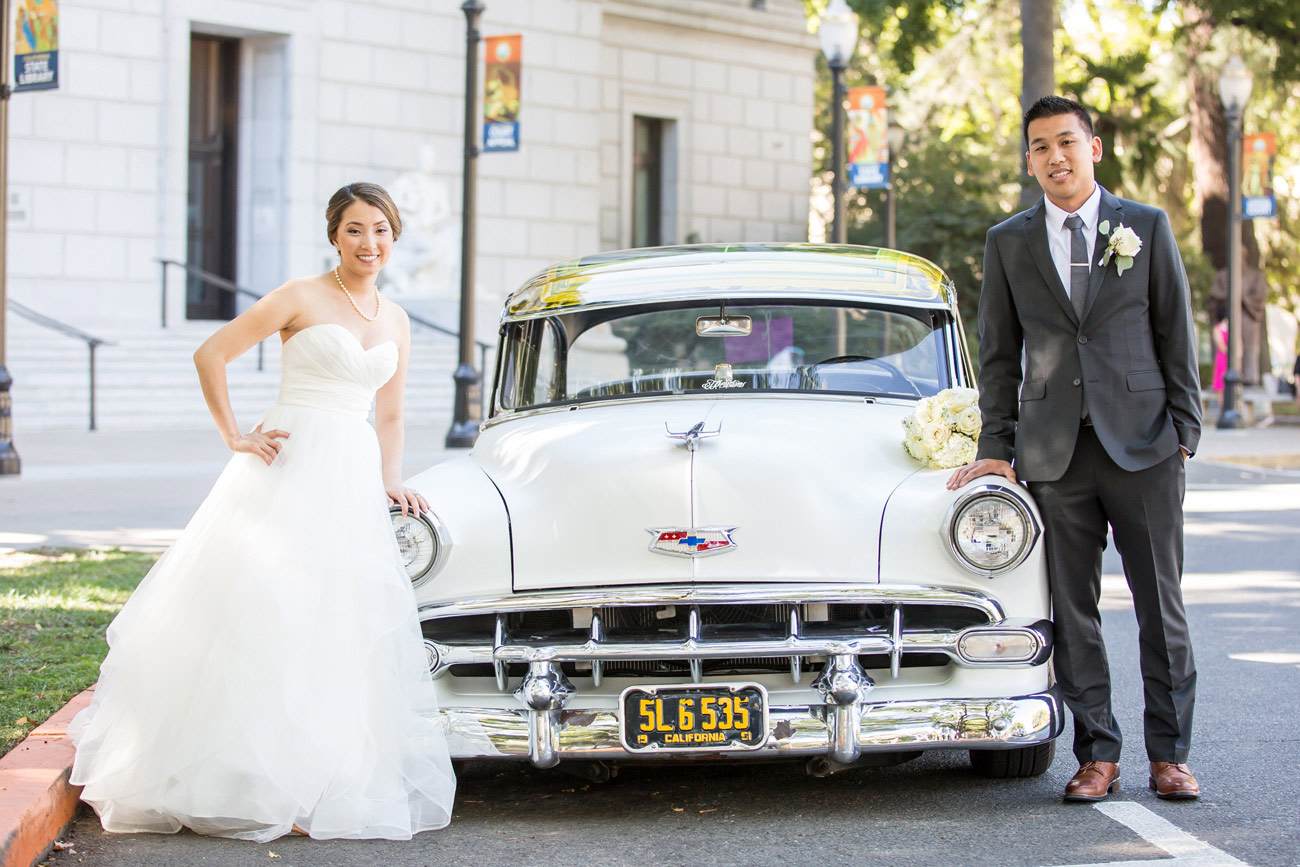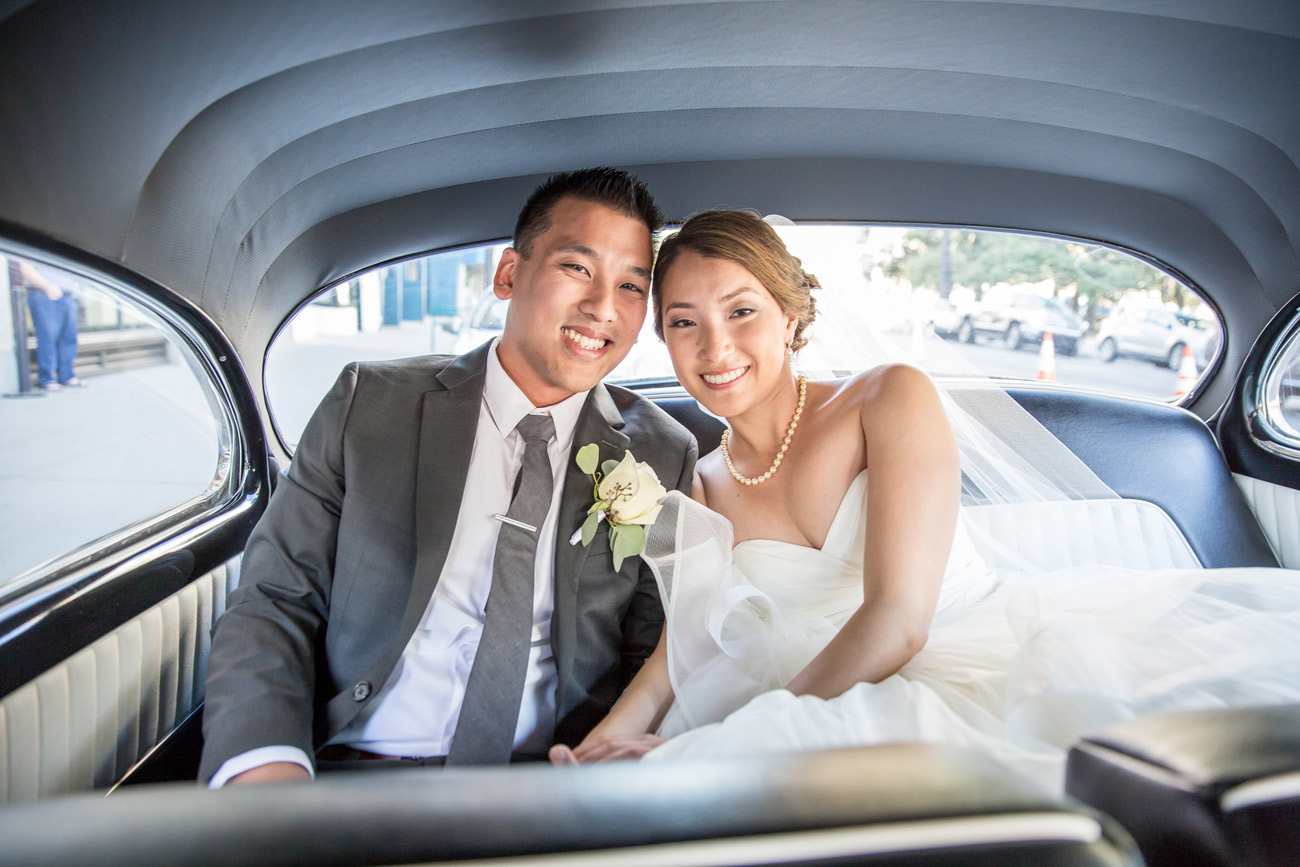 At the reception, a very soft, elegant and simple theme was created using hues of blush, ivory/white and gold. Flowers were "blush and ivory, with a little green to make it rustic. I didn't want much color, just lots of white and light colors." Soft white flowers adorned the picture backdrop, the cake table and the sweetheart table.
The DJ, who the couple hired after seeing him in action at a friends' wedding, created an elegant ambiance with carefully chosen music while guests were treated to a Chinese banquet dinner followed by 4 different cakes because Danielle and Tong couldn't decide on just one!
For wedding favors, the theme continued with custom stemless wine glasses personalized with the newlyweds' names and date in a pretty gold font.
The first dance was to "Unbelievable" by Craig David, which Tong always loved, and which, Danielle says, "fit us perfectly." That moment was Danielle's most romantic of the day. She says, "it felt like we were actually alone and just enjoying each other's company."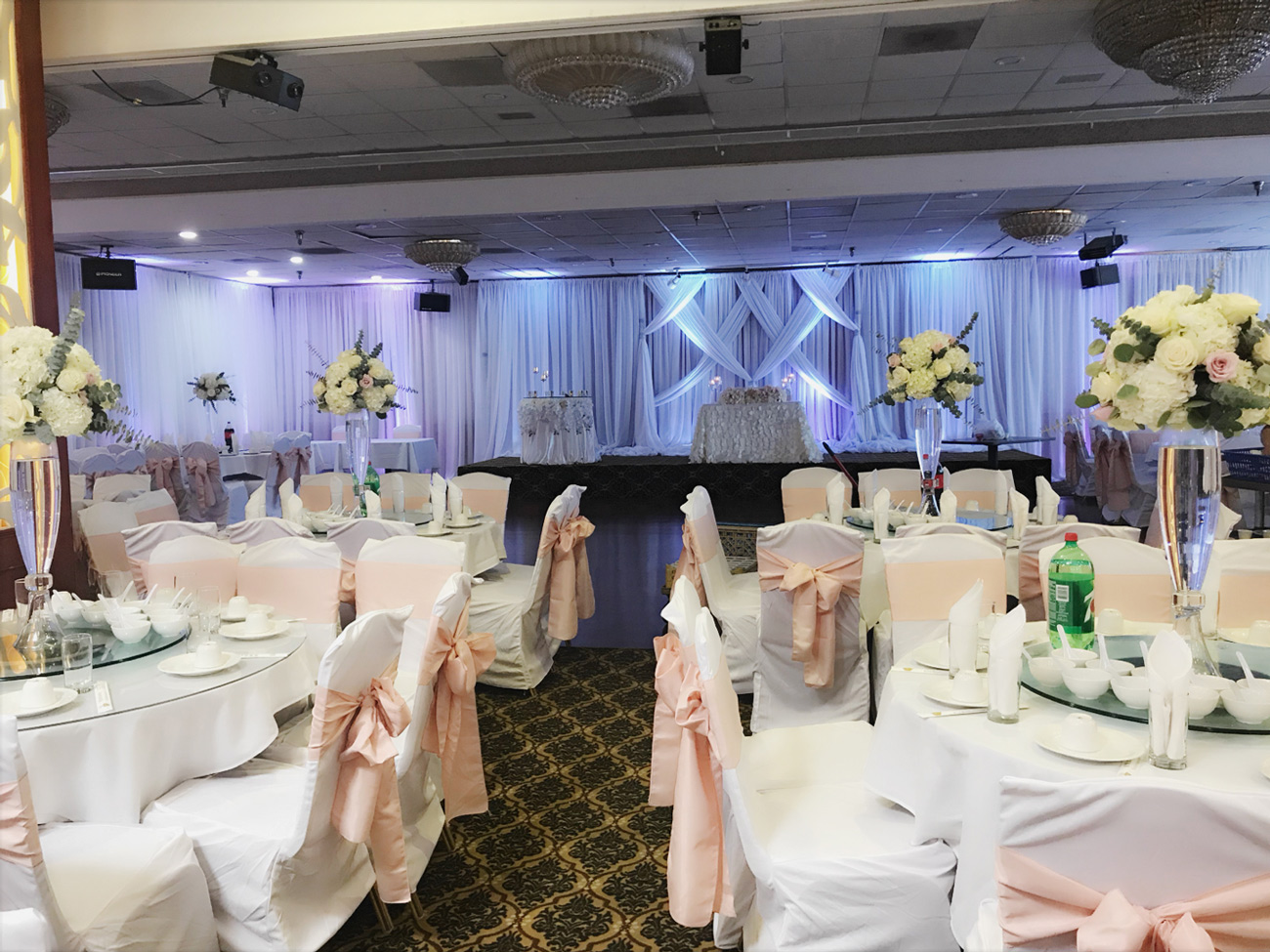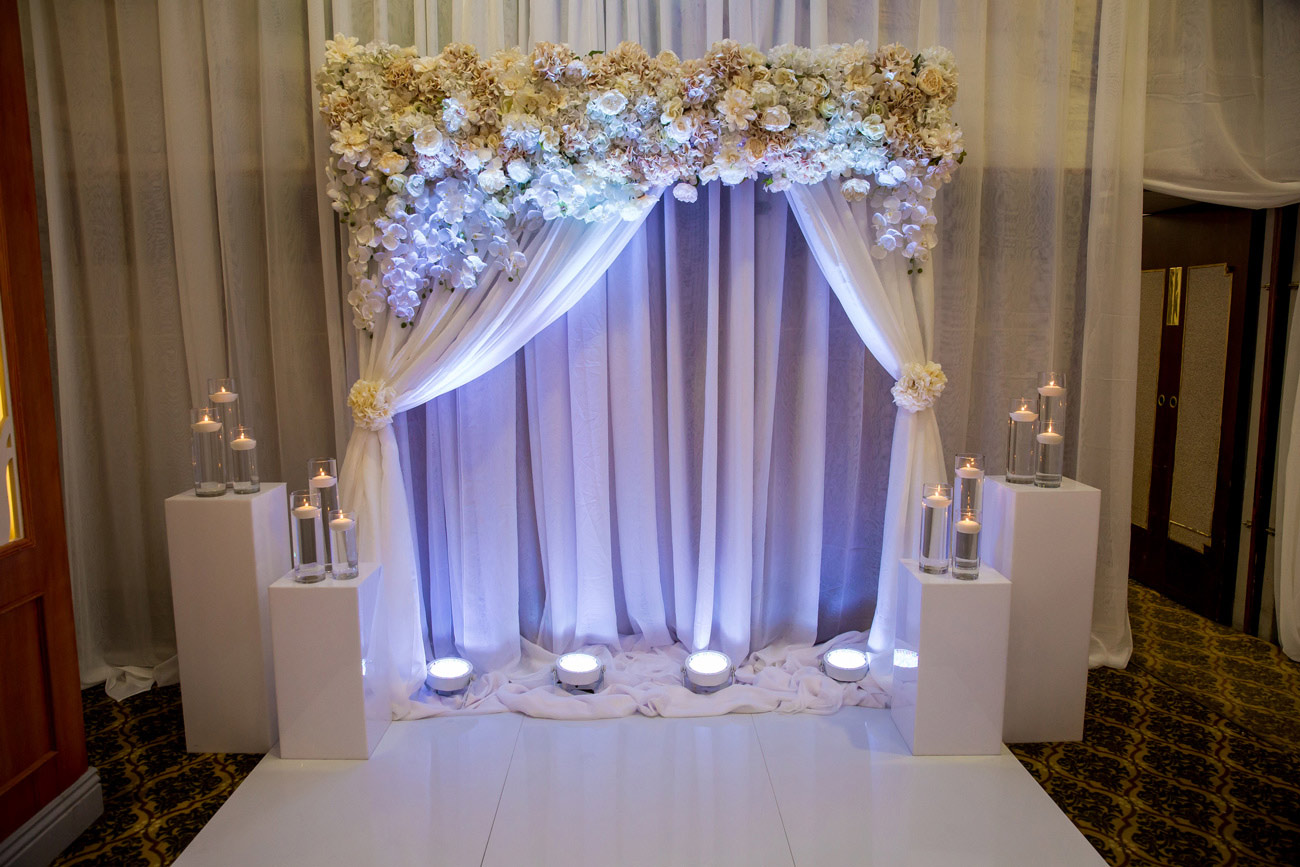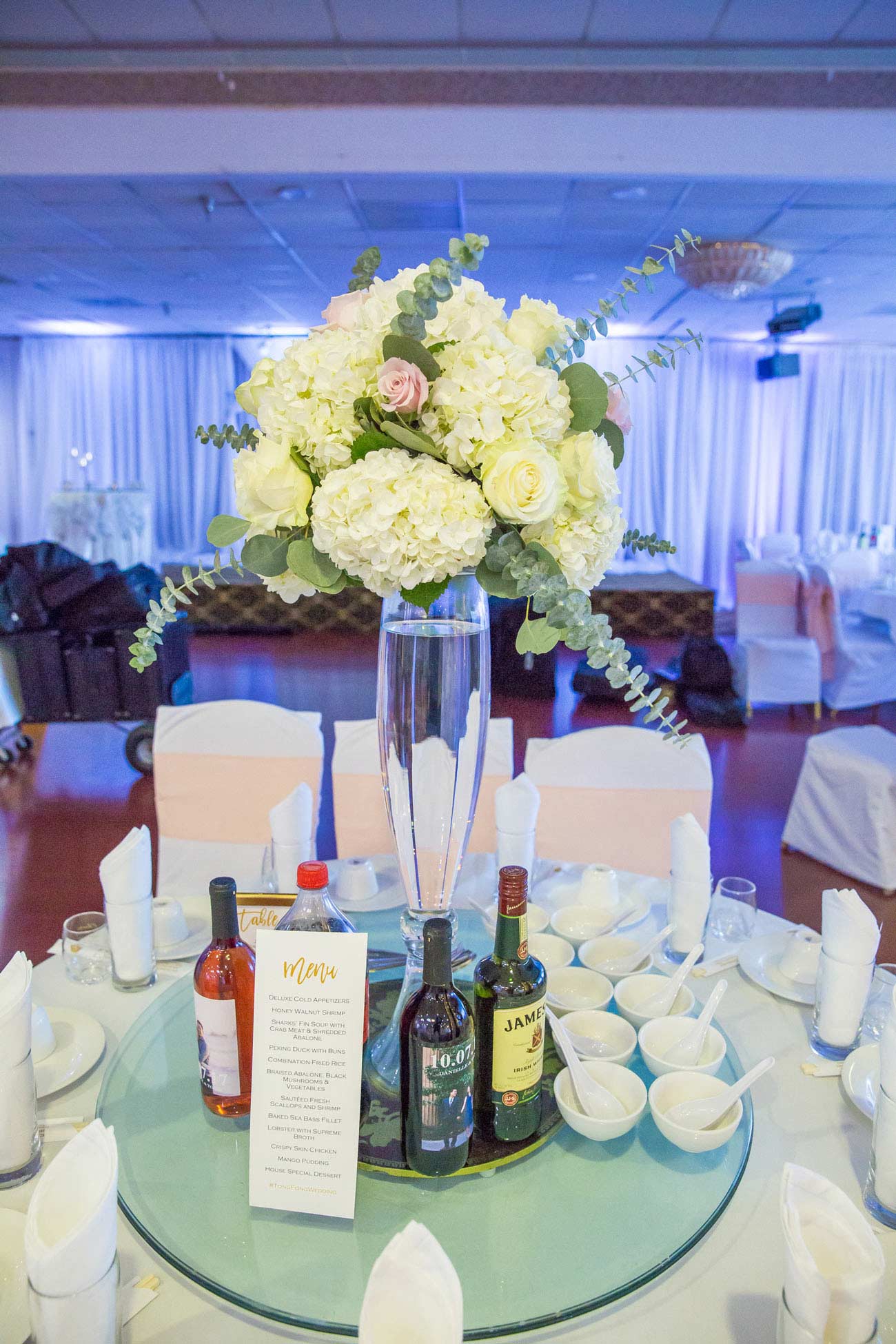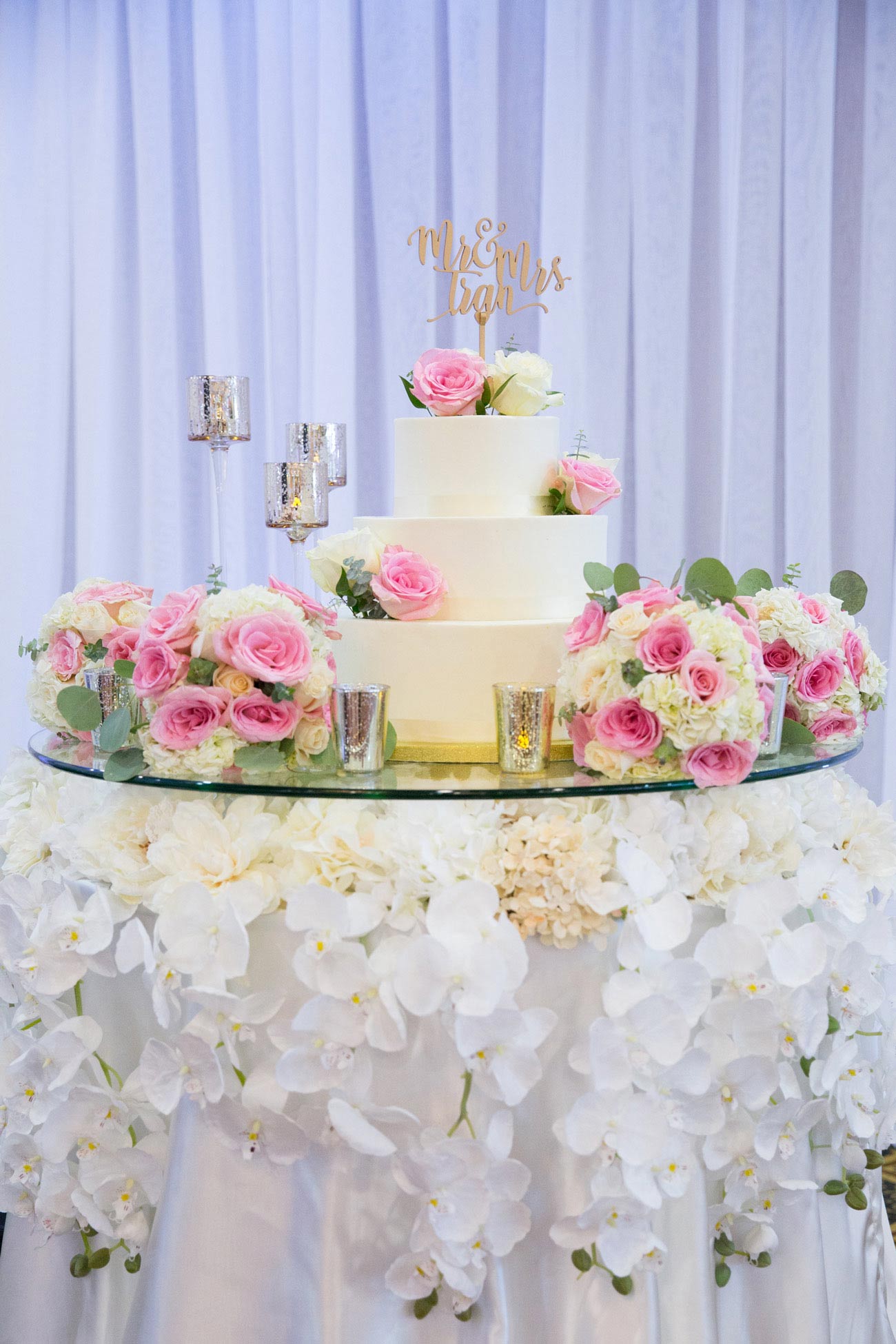 Afterwards, when it was time to party, the DJ kept things moving with a mix of old school hip hop from the 90s – 2000s, EDM and top 100 billboards.
Looking back, Danielle reports that "Everyone told us they had a wonderful time at our wedding. The DJ was great. Our videographer was encouraging and pulled me out of my box. The photographers from Mike Phan Photography were great, and I love my engagement pictures too. Even my hairstylist was great, everyone she did turned out lovely.
Finally, this couple has plenty of advice for others planning a wedding:
• Be specific on everything you want to your vendors. They tend to have general packages which almost always change for add-ons and removals. It is important to document every change in an email so that you have it for your own records. A lot of things can get lost through conversation only.
• Get things done early because things book up. Try to plan everything ahead of time, because there is always something unexpected that will take your attention prior to the wedding. You may think you just have a few little things left to do before the wedding, but all the little things add up and will end up taking more time than you expect.
• Two or three weeks before the wedding, take a weekend and get away, and don't do anything wedding-related.
• It is very easy to get overwhelmed so having a partner there to support you and help you make decisions is key.
• The last thing you want to remember is stressing on your wedding day, so delegate everything, and don't stress about anything, even if something doesn't go according to plan. What matters is that you are marrying your partner for life, and that you have the love and support of all your family and friends. Some things are just uncontrollable – so let it go and have fun!
PHOTOS: Mike Phan Photography
[CEREMONY] Cathedral of the Blessed Sacrament [RECEPTION] Rice Bowl [DECOR/FLOWERS] CL Decor [GOWN] Miosa [FORMAL WEAR] Banana Republic [DESSERT] Rick's Dessert Diner [DJ] DJ Ninhtendo [VIDEO] Passion Studio [HAIR / MAKEUP] Ana & Maria Hair Studio / Megan Wold